DESMATAMENTO E FLEXIBILIZAÇÃO DO CÓDIGO FLORESTAL BRASILEIRO: O DEBATE NO MEIO CIENTÍFICO E NAS INSTITUIÇÕES PÚBLICAS DE ENSINO
Abstract
O código florestal brasileiro foi implantado visando conci-liar a preservação ambiental e manejo sustentável dos re-cursos naturais com o uso e ocupação do solo pelo homem.Este trabalho teve como objetivo verificar o nível de debatesobre os temas desmatamento e ecologia geral e novo códi-go florestal no ensino fundamental, médio e superior pú-blicos, assim como na comunidade científica. Realizou-se aelaboração de um questionário estruturado, que foi subme-tido aos alunos dos seguimentos supramencionados. Paraverificar o nível de debate científico dos temas propostos,foi realizada uma análise cienciométrica. Os alunos apre-sentaram um alto índice de acertos, sendo que foram de-tectadas diferenças significativas no número de acertos dosalunos de cada nível de ensino,com um incremento conco-mitante ao aumento do grau de escolaridade dos alunos. Asanálises cienciométricas apontaram um maior número depublicações nos últimos anos, o que deve estar associado àintensificação do processo de desmatamento.
Downloads
Download data is not yet available.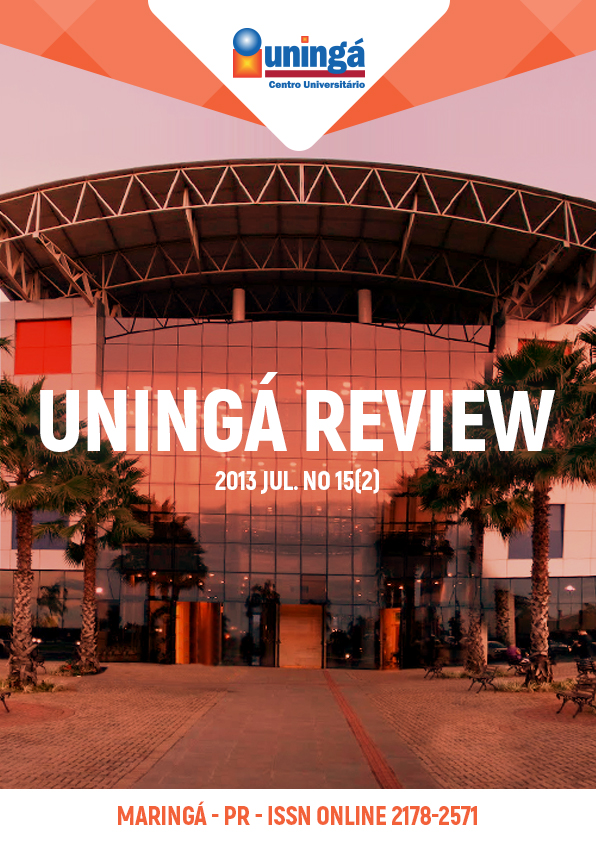 Downloads
How to Cite
Stopa Santos, E., Martins Ruckstadter Neves, N., & Tófoli, R. M. (2013). DESMATAMENTO E FLEXIBILIZAÇÃO DO CÓDIGO FLORESTAL BRASILEIRO: O DEBATE NO MEIO CIENTÍFICO E NAS INSTITUIÇÕES PÚBLICAS DE ENSINO. Uningá Review, 15(2), 5. Retrieved from https://revista.uninga.br/uningareviews/article/view/757
License
I declare/we declare that the text submitted here is original, of my own authorship and does not infringe any type of third party rights. The content is my/our sole responsibility. Possible research involving animals and/or human beings is in accordance with Resolution 196/96 of the National Health Council and its complements. I declare that I am/we are in possession of the written consent of patients and that the research and its procedures were timely and adequately approved by the Ethics Committee of the institution of origin. We further declare that all institutional affiliations and all sources of financial support for the work are duly informed. I certify that there is no commercial or associative interest that represents a conflict of interest related to the submitted work. If there is commercial interest, in addition to the technical and academic ones, in the publication of the article, the information will be reported during the text.