INTOXICAÇÃO DOMICILIAR DE CÃES E GATOS
Abstract
O Brasil perde apenas para os Estados Unidos em relação
ao número de animais domiciliados e com isso os casos de
intoxicação tanto intencional como acidental vem aumentando
consideravelmente. Dentre os principais agentes tóxicos
estão os medicamentos ocupando o primeiro lugar e
em seguida vêm os pesticidas, as plantas tóxicas e os alimentos
de uso humano. Dentre os inseticidas que mais
causam intoxicações estão os organofosforados e carbamatos,
já os raticidas, que possuem a finalidade de extermínio
de roedores, o único permitido no Brasil são os derivados
cumarínicos anticoagulantes. As plantas ornamentais são
de fácil acesso pelos animais e isso faz delas responsáveis
por grande parte das intoxicações dos mesmos. O mau hábito
de servir alimentos de uso humanos para seus animais
podem resultar em intoxicações graves e sem falar da automedicação
ou mau acondicionamento de medicamentos
que sendo administrados ou ingeridos em uma concentração
desconhecida pode ser fatal para seu bichinho. Dessa
forma, o presente trabalho teve por objetivo fazer uma
revisão bibliográfica acerca das principais causas de intoxicação
doméstica de cães e gatos. Pelos dados observados,
vê-se a necessidade de uma maior conscientização da população
a respeito dos perigos de intoxicação domésticos.
Downloads
Download data is not yet available.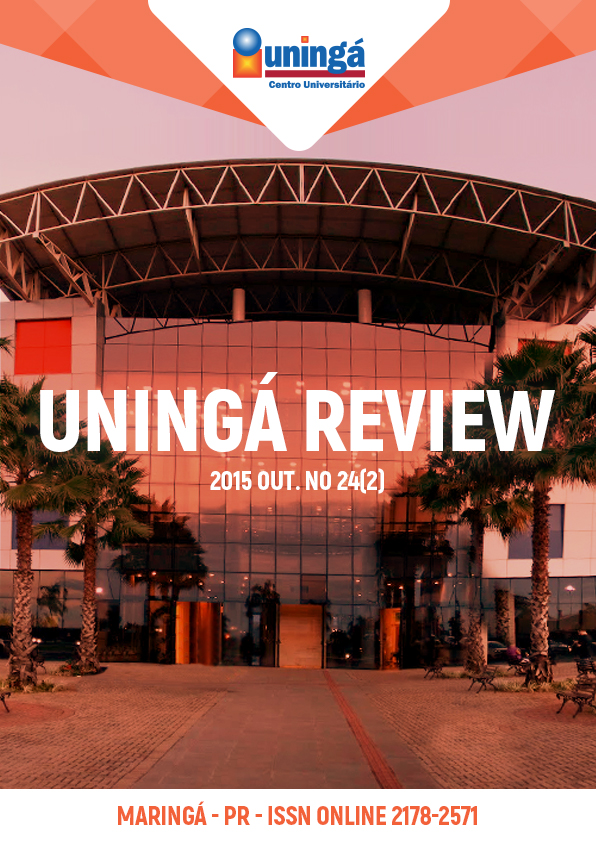 Downloads
How to Cite
CONCEIÇÃO, J. L. D. S., & ORTIZ, M. A. L. (2015). INTOXICAÇÃO DOMICILIAR DE CÃES E GATOS. Uningá Review, 24(2). Retrieved from https://revista.uninga.br/uningareviews/article/view/1692
License
I declare/we declare that the text submitted here is original, of my own authorship and does not infringe any type of third party rights. The content is my/our sole responsibility. Possible research involving animals and/or human beings is in accordance with Resolution 196/96 of the National Health Council and its complements. I declare that I am/we are in possession of the written consent of patients and that the research and its procedures were timely and adequately approved by the Ethics Committee of the institution of origin. We further declare that all institutional affiliations and all sources of financial support for the work are duly informed. I certify that there is no commercial or associative interest that represents a conflict of interest related to the submitted work. If there is commercial interest, in addition to the technical and academic ones, in the publication of the article, the information will be reported during the text.