RELATO DE CASO: PERÍCIA EM BEM-ESTAR ANIMAL PARA DIAGNÓSTICO DE MAUS-TRATOS CONTRA GALOS UTILIZADOS EM RINHAS
Abstract
A penalização de quem pratica rinha de galos pode ser fortalecida
por pareceres técnicos de profissionais capacitados
para atestar maus-tratos. O objetivo foi relatar uma perícia
em bem-estar animal para diagnóstico de maus-tratos contra
galos utilizados em rinhas. A perícia ocorreu na região
de Curitiba, Paraná, avaliando-se 12 animais da espécie
Gallus gallus. Foi utilizado o Protocolo de Perícia em
Bem-estar Animal – PPBEA, composto por quatro conjuntos
de indicadores: nutricionais, de conforto, de saúde e
comportamentais. O grau de bem-estar é resultado da integração
dos indicadores e varia de muito baixo a muito
alto. Graus de bem-estar muito baixo e baixo são compatíveis
com maus-tratos. Os animais apresentaram inadequação
dos quatro conjuntos de indicadores devido à inconformidade
da oferta de água e alimento, desconforto imposto
pelo ambiente, lesões intencionais e sem atendimento
veterinário e limitação da execução dos comportamentos
naturais. Foram identificadas evidências da prática de rinha,
como o número de galos presentes no local, balança,
arena, gaiolas de transporte e apetrechos utilizados para
este crime. O uso do PPBEA concretizou a emissão de parecer
técnico fundamentado na ciência do bem-estar animal
para atestar maus-tratos, bem como confirmar o uso dos
animais para rinha, crime legalmente proibido no Brasil.
Downloads
Download data is not yet available.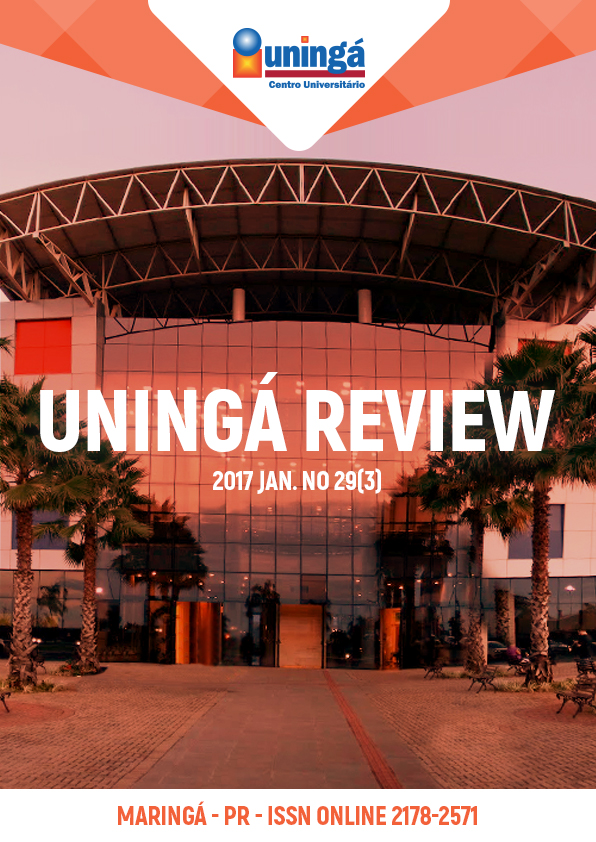 Downloads
How to Cite
HAMMERSCHMIDT, J., REIS, S. T. J., & MOLENTO, C. F. M. (2017). RELATO DE CASO: PERÍCIA EM BEM-ESTAR ANIMAL PARA DIAGNÓSTICO DE MAUS-TRATOS CONTRA GALOS UTILIZADOS EM RINHAS. Uningá Review, 29(3). Retrieved from https://revista.uninga.br/uningareviews/article/view/1991
License
I declare/we declare that the text submitted here is original, of my own authorship and does not infringe any type of third party rights. The content is my/our sole responsibility. Possible research involving animals and/or human beings is in accordance with Resolution 196/96 of the National Health Council and its complements. I declare that I am/we are in possession of the written consent of patients and that the research and its procedures were timely and adequately approved by the Ethics Committee of the institution of origin. We further declare that all institutional affiliations and all sources of financial support for the work are duly informed. I certify that there is no commercial or associative interest that represents a conflict of interest related to the submitted work. If there is commercial interest, in addition to the technical and academic ones, in the publication of the article, the information will be reported during the text.