A IMPORTÂNCIA DO ÔMEGA 3 PARA A SAÚDE HUMANA: UM ESTUDO DE REVISÃO
Abstract
As doenças crônicas não transmissíveis constituem o problema de
saúde de maior magnitude no Brasil, correspondendo a 72% das
causas de mortes. Alimentos funcionais surgem para melhorar a
qualidade de vida e reduzir os riscos de doenças crônico-
degenerativas. Sendo assim, o objetivo deste estudo é realizar
uma revisão sistemática sobre o efeito dos ácidos graxos ômega 3
na saúde humana, por meio dos alimentos funcionais.Para alcançar
esses objetivos foi realizada uma revisão sistemática a partir
das bases SCIELO Brasil – Scientific Eletronic Library on line,
LILACS - Base de Literatura Latino-Americana em Ciências da
Saúde, portal CAPES e Biblioteca Virtual de Saúde. Os estudos
mostraram que a presença dos ácidos graxos ômega 3 na dieta dos
seres humanos é de extrema importância tanto na alimentação dos
indivíduos saudáveis quanto para aqueles que já apresentam algumas
patologias como o câncer, a asma, o diabetes, a hipertensão
arterial, os distúrbios neurológicos e doenças cardiovasculares em
sua maioria. Dessa forma, a educação em saúde é fundamental,
assim o acompanhamento nutricional se faz necessário, para auxiliar
na escolha correta dos alimentos fonte, bem como para orientar
sobre a quantidade e a melhor forma de consumir o ômega 3.
Downloads
Download data is not yet available.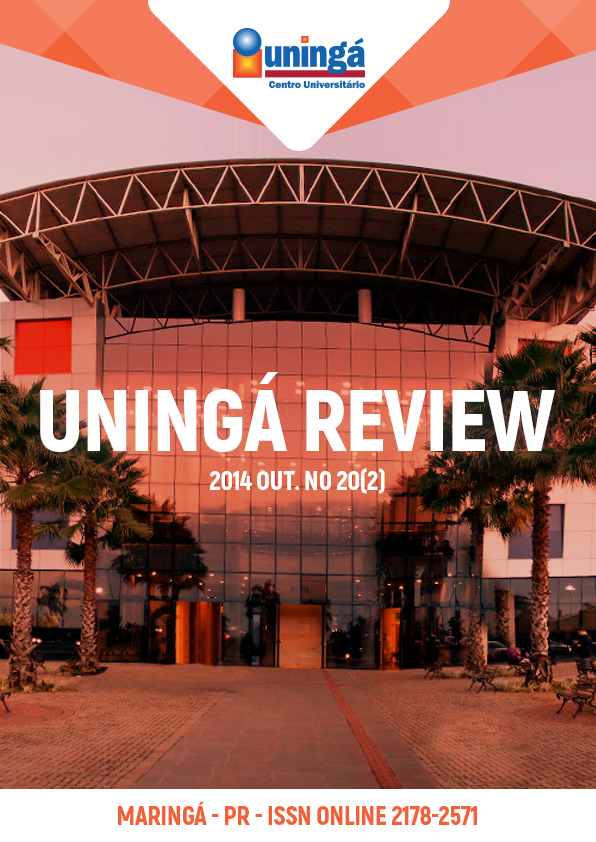 Downloads
How to Cite
VAZ, D. S. S., GUERRA, F. M. R. M., GOMES, C. F., SIMÃO, A. N. C., & MARTINS JUNIOR, J. (2014). A IMPORTÂNCIA DO ÔMEGA 3 PARA A SAÚDE HUMANA: UM ESTUDO DE REVISÃO. Uningá Review, 20(2). Retrieved from https://revista.uninga.br/uningareviews/article/view/1592
License
I declare/we declare that the text submitted here is original, of my own authorship and does not infringe any type of third party rights. The content is my/our sole responsibility. Possible research involving animals and/or human beings is in accordance with Resolution 196/96 of the National Health Council and its complements. I declare that I am/we are in possession of the written consent of patients and that the research and its procedures were timely and adequately approved by the Ethics Committee of the institution of origin. We further declare that all institutional affiliations and all sources of financial support for the work are duly informed. I certify that there is no commercial or associative interest that represents a conflict of interest related to the submitted work. If there is commercial interest, in addition to the technical and academic ones, in the publication of the article, the information will be reported during the text.