ANÁLISE DA CONCENTRAÇÃO DE TARTRAZINA EM ALIMENTOS CONSUMIDOS POR CRIANÇAS E ADOLESCENTES
Abstract
O objetivo do presente estudo foi o de analisar se a
concentração do corante tartrazina se enquadrava nas
recomendações previstas pela Agência Nacional de
Vigilância Sanitária (ANVISA), através da técnica de
espectrofotometria no UV-Vis, no comprimento de onda de
402nm. Foram analisadas nove amostras de cada alimento:
gelatina sabor abacaxi, suco em pó artificial sabor laranja e
isotônico sabor laranja, de três marcas diferentes. A
verificação de cada uma das amostras foi realizada em
triplicata. Para a análise estatística foi utilizado o software
estatístico Statistical Package for the Social Sciences (SPSS)
13.0. O resultado da média da concentração em g/100g das
amostras de gelatinas e sucos estudados demonstrou valores
superiores ao limite máximo preconizado pela legislação
brasileira, (p=0,008). Esta alteração não foi verificada nas
amostras de isotônicos. Conclui-se que a concentração de
tartrazina adicionada aos sucos em pó e gelatinas
analisados não se enquadraram nas normas estabelecidas
pela ANVISA, enquanto que as concentrações nos isotônico
estavam adequadas.
Downloads
Download data is not yet available.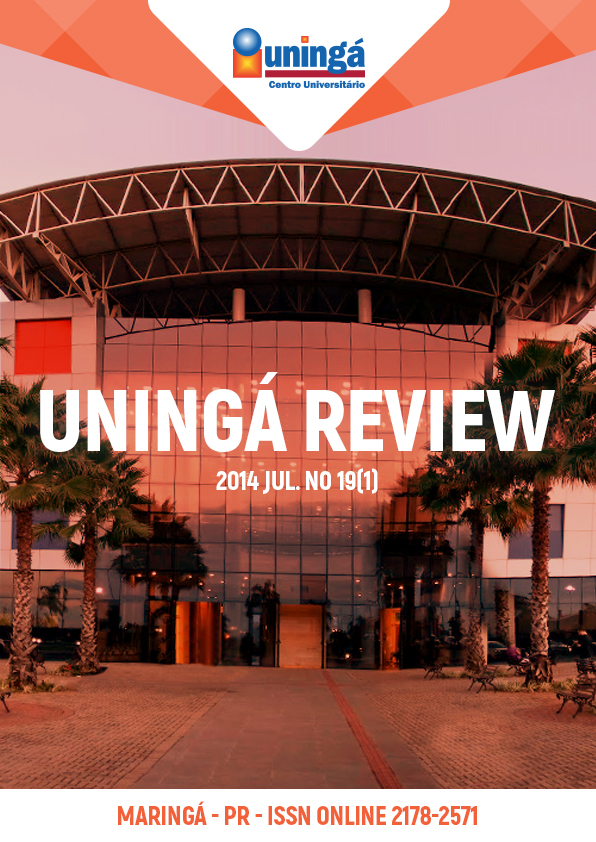 Downloads
How to Cite
PIASINI, A., STULP, S., DAL BOSCO, S. M., & ADAMI, F. S. (2014). ANÁLISE DA CONCENTRAÇÃO DE TARTRAZINA EM ALIMENTOS CONSUMIDOS POR CRIANÇAS E ADOLESCENTES. Uningá Review, 19(1). Retrieved from https://revista.uninga.br/uningareviews/article/view/1530
License
I declare/we declare that the text submitted here is original, of my own authorship and does not infringe any type of third party rights. The content is my/our sole responsibility. Possible research involving animals and/or human beings is in accordance with Resolution 196/96 of the National Health Council and its complements. I declare that I am/we are in possession of the written consent of patients and that the research and its procedures were timely and adequately approved by the Ethics Committee of the institution of origin. We further declare that all institutional affiliations and all sources of financial support for the work are duly informed. I certify that there is no commercial or associative interest that represents a conflict of interest related to the submitted work. If there is commercial interest, in addition to the technical and academic ones, in the publication of the article, the information will be reported during the text.