PUNÇÃO DA VEIA CAUDAL PARA ANÁLISE GLICÊMICA EM RATOS WISTAR:UMA PROPOSTA DE MÉTODO DE CONTENÇÃO
Abstract
A contenção física de um animal destinado à experimenta-ção deve ser realizada com cuidado para evitar acidentesdurante a manipulação. Contensões adequadas beneficiamtanto o animal de experimentação como o pesquisador. Otrabalho tem por objeto descrever um método de contençãoanimal de maneira segura para o pesquisador e que nãotraga desconforto ao animal. O modelo de contenção de-senvolvido foi a construção de uma caixa de contenção comdimensões adequadas para os animais da pesquisa, visandouma maior facilidade do manuseio dos animais durante oprocedimento de punção da veia caudal, para análise gli-cêmica. A caixa feita de papelão com dimensões de27x10x10cm e 23x10x10cm, variando estas dimensões deacordo com o tamanho dos animais que faziam parte dapesquisa, tendo duas aberturas, sendo uma de 1,5x1,5cmpara a exposição da região da cauda e outra de 2x2cm naregião da boca, para possibilitar ventilação para o animal.Este método facilita a manipulação do animal, sem ocorrerriscos para o pesquisador e para o próprio animal, nãosendo necessário a utilização de anestésicos e sedativos que podem em alguns procedimentos interferir nas análisesrealizadas.
Downloads
Download data is not yet available.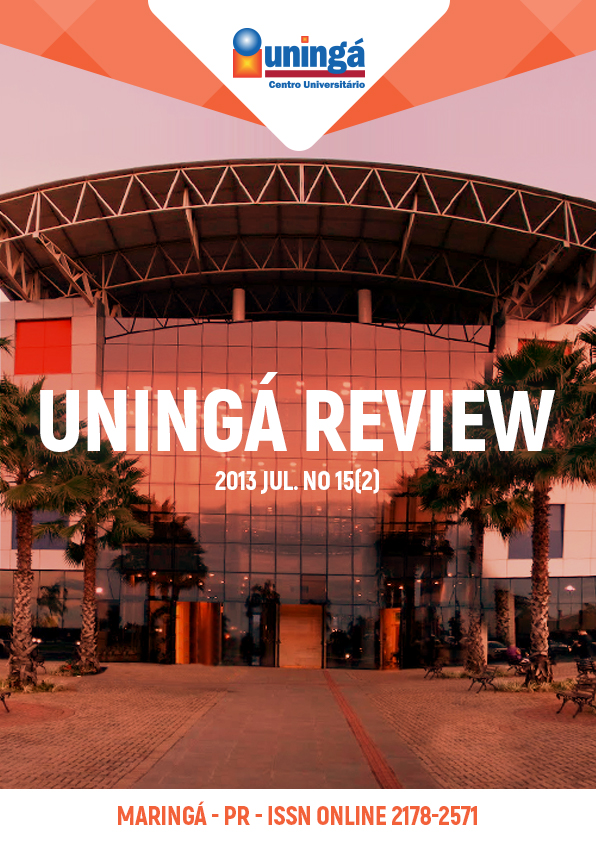 Downloads
How to Cite
de Almeida Soares Hocayen, P. (2013). PUNÇÃO DA VEIA CAUDAL PARA ANÁLISE GLICÊMICA EM RATOS WISTAR:UMA PROPOSTA DE MÉTODO DE CONTENÇÃO. Uningá Review, 15(2), 1. Retrieved from https://revista.uninga.br/uningareviews/article/view/751
License
I declare/we declare that the text submitted here is original, of my own authorship and does not infringe any type of third party rights. The content is my/our sole responsibility. Possible research involving animals and/or human beings is in accordance with Resolution 196/96 of the National Health Council and its complements. I declare that I am/we are in possession of the written consent of patients and that the research and its procedures were timely and adequately approved by the Ethics Committee of the institution of origin. We further declare that all institutional affiliations and all sources of financial support for the work are duly informed. I certify that there is no commercial or associative interest that represents a conflict of interest related to the submitted work. If there is commercial interest, in addition to the technical and academic ones, in the publication of the article, the information will be reported during the text.