EXPERIÊNCIAS DE UMA ACADÊMICA DE ENFERMAGEM A PARTIR DO ESTÁGIO SUPERVISIONADO
Abstract
O objetivo do presente estudo é descrever a experiência de
uma acadêmica de enfermagem sob o último período de
estágio supervisionado em uma Unidade Básica de Saúde.
Trata-se de um relato de experiência do tipo descritivo,
desenvolvido em uma Unidade Básica de Saúde em um
município de médio porte, no período de setembro a dezembro
de 2016. A partir disso, foram obtidos como resultados
a detecção de alguns aspectos relacionados ao processo
de trabalho do enfermeiro, bem como as potencialidades
e fragilidades das Unidades Básicas de Saúde. Pôde-
se observar que o estágio curricular evidencia a importância
desse contato inicial para a formação profissional e
para o amadurecimento das teorias e práticas oferecidas no
decorrer da graduação. Além disso, colabora para o crescimento
pessoal e profissional, já que aproxima o acadêmico
dos problemas existentes no dia a dia do enfermeiro.
Downloads
Download data is not yet available.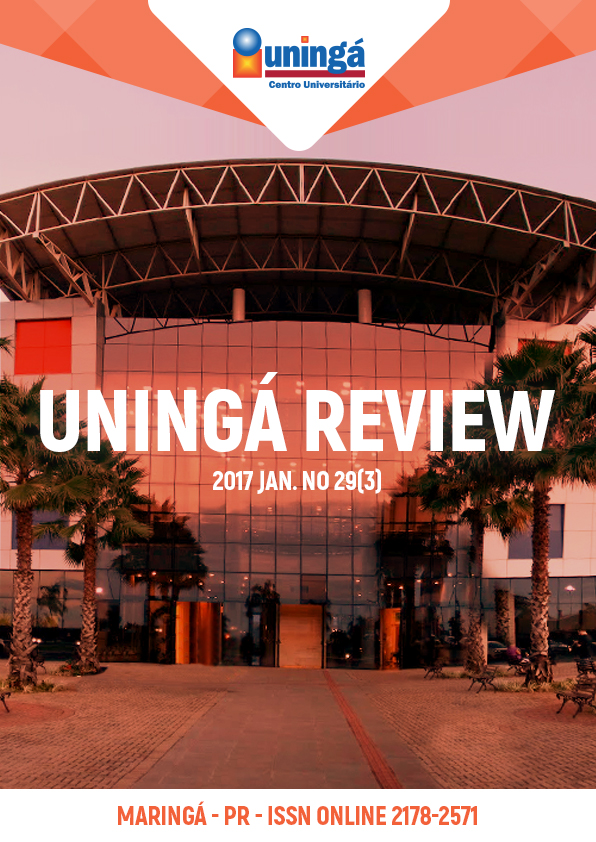 Downloads
How to Cite
RIBEIRO, B. M. D. S. S., & TESTON, E. F. (2017). EXPERIÊNCIAS DE UMA ACADÊMICA DE ENFERMAGEM A PARTIR DO ESTÁGIO SUPERVISIONADO. Uningá Review, 29(3). Retrieved from https://revista.uninga.br/uningareviews/article/view/1995
License
I declare/we declare that the text submitted here is original, of my own authorship and does not infringe any type of third party rights. The content is my/our sole responsibility. Possible research involving animals and/or human beings is in accordance with Resolution 196/96 of the National Health Council and its complements. I declare that I am/we are in possession of the written consent of patients and that the research and its procedures were timely and adequately approved by the Ethics Committee of the institution of origin. We further declare that all institutional affiliations and all sources of financial support for the work are duly informed. I certify that there is no commercial or associative interest that represents a conflict of interest related to the submitted work. If there is commercial interest, in addition to the technical and academic ones, in the publication of the article, the information will be reported during the text.