TRATAMENTO DE MUCOSITES ASSOCIADAS À XEROSTOMIA
Abstract
A mucosite oral é considerada a mais severa complicação
não hematológica da terapia do câncer, ocorrendo em 40 a
80% dos pacientes tratados com quimioterapia e em
praticamente todos os pacientes tratados por radioterapia.
O objetivo da pesquisa é levantar informações sobre as
principais formas de tratamento de mucosites relacionadas á
xerostomia. O estudo trata-se de uma revisão integrativa de
publicações cientificas nos bancos de dados sciencedirect,
web of science e scielo, descrevendo alternativas de
tratamento tanto para mucosites como para xerostomia.
Acrioterapia e o laser de baixa intensidade obtiveram
quantidades semelhantes de artigos analisados nos bancos
de dados, porém não podendo considera que as alternativas
como a única forma de tratamento. Foi observada a grande
quantidade de artigo, citado a crioterapia, como uma das
melhores formas de prevenção da xerostomia e o laser de
baixa intensidade como melhor aliado para o tratamento da
mucosites em paciente acometidos.
Downloads
Download data is not yet available.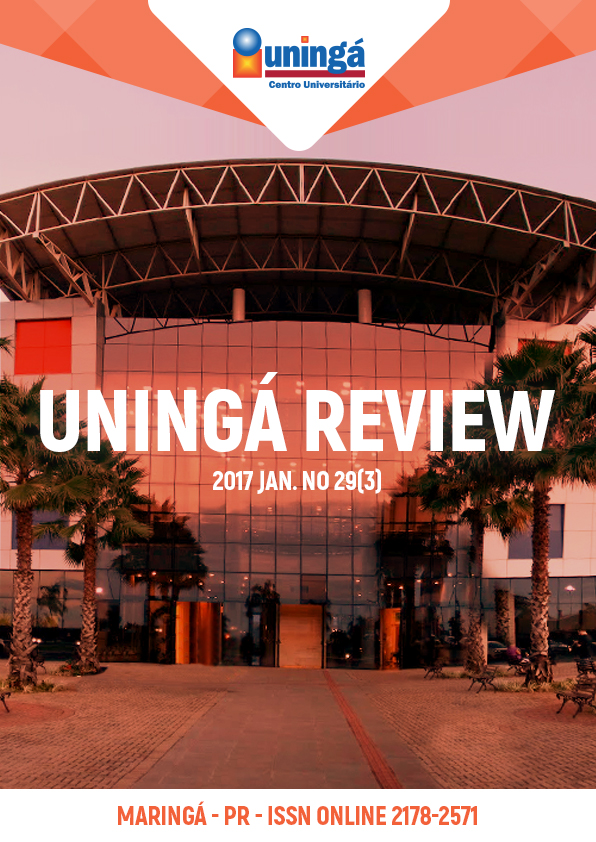 Downloads
How to Cite
COSTA, G. D. S., DE OLIVEIRA, F. P., DE SÁ, L. L. F., CALAÇA, M. B., & SOUSA, A. C. D. O. (2017). TRATAMENTO DE MUCOSITES ASSOCIADAS À XEROSTOMIA. Uningá Review, 29(3). Retrieved from https://revista.uninga.br/uningareviews/article/view/1986
License
I declare/we declare that the text submitted here is original, of my own authorship and does not infringe any type of third party rights. The content is my/our sole responsibility. Possible research involving animals and/or human beings is in accordance with Resolution 196/96 of the National Health Council and its complements. I declare that I am/we are in possession of the written consent of patients and that the research and its procedures were timely and adequately approved by the Ethics Committee of the institution of origin. We further declare that all institutional affiliations and all sources of financial support for the work are duly informed. I certify that there is no commercial or associative interest that represents a conflict of interest related to the submitted work. If there is commercial interest, in addition to the technical and academic ones, in the publication of the article, the information will be reported during the text.