ESTUDO DOS MECANISMOS ENVOLVIDOS NA RESISTÊNCIA INSULÍNICA EM PACIENTES COM SÍNDROME DOS OVÁRIOS POLICÍCTICOS: UMA REVISÃO
Abstract
Introdução: A síndrome dos ovários policísticos é a
disfunçaõ endócrina que mais acomente mulheres em fase
reprodutiva. Sendo de caráter multifatorial, a síndrome é
fortemente relacionada a resistência insulínica. Objetivo:
Estudar os prováveis mecanismos envolvidos na Resistência
à Insulina em mulheres com Síndrome dos Ovários
Policísticos. Métodos: Tratou-se de uma revisão literária
utilizando uma amostra contendo 16 artigos, de uma
população de 168. Resultado: Foram encontradas cinco
hipóteses principais: fosforilação da serina, polimorfismo
em genes que estão envolvidos na secreção e ação da insulina
(INS, INSR, IRS, PPAR-gama e/ou CAPN10); alterações
gênicas pró-inflamatórias (TNF-α e IL-6); defeito
nas células-ß pancreáticas e deficiência no metabolismo
dos esteroides. A fosforilação da serina é a hipótese mais
citada e aceita pelos autores. Conclusão: Alguns
mecanismos estão associados ao aparecimento da RI na
SOP, sendo a fosforilação da serina o mecanismo mais
citado e o mais própravel de estar envolvido segundo os
autores estudados. A heterogeneidada da doença leva a
várias teorias sobre sua etiologia, podendo ser causada
por diversos fatores e que somados a fatores ambientais
contribuem para o aparecimento dos diferentes fenótipos
da doença.
Downloads
Download data is not yet available.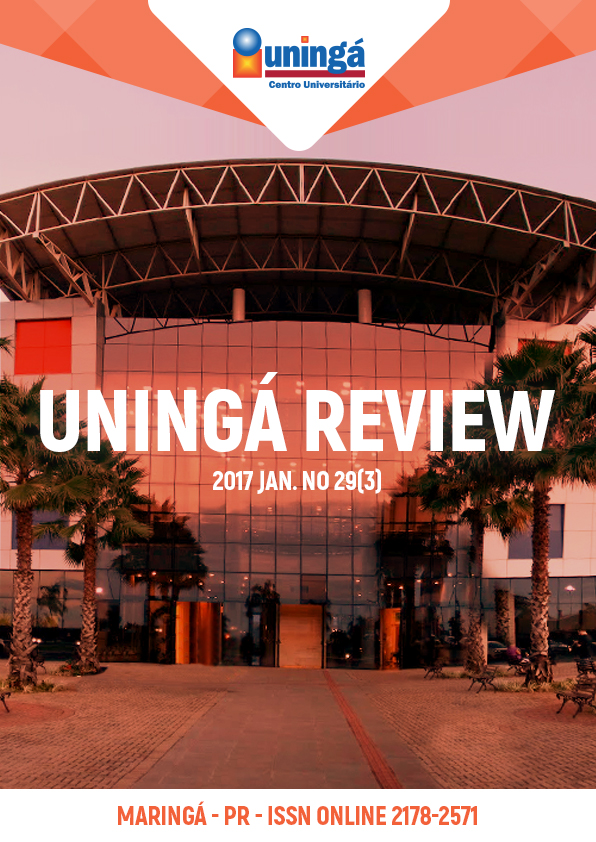 Downloads
How to Cite
NASSIF, M. B., SILVA, A. S., ZANETTE, A. P. D. M., & DE PAIVA, A. M. R. (2017). ESTUDO DOS MECANISMOS ENVOLVIDOS NA RESISTÊNCIA INSULÍNICA EM PACIENTES COM SÍNDROME DOS OVÁRIOS POLICÍCTICOS: UMA REVISÃO. Uningá Review, 29(3). Retrieved from https://revista.uninga.br/uningareviews/article/view/1981
License
I declare/we declare that the text submitted here is original, of my own authorship and does not infringe any type of third party rights. The content is my/our sole responsibility. Possible research involving animals and/or human beings is in accordance with Resolution 196/96 of the National Health Council and its complements. I declare that I am/we are in possession of the written consent of patients and that the research and its procedures were timely and adequately approved by the Ethics Committee of the institution of origin. We further declare that all institutional affiliations and all sources of financial support for the work are duly informed. I certify that there is no commercial or associative interest that represents a conflict of interest related to the submitted work. If there is commercial interest, in addition to the technical and academic ones, in the publication of the article, the information will be reported during the text.