A IMPORTÂNCIA DO TRABALHO EM EQUIPE NO CONTEXTO DA ENFERMAGEM
Abstract
Na área da saúde, o trabalho em equipe é considerado um
instrumento indispensável de atuação dos profissionais
principalmente na área da enfermagem. Trabalhar em
equipe é o meio mais adequado para que se possa obter
melhores resultados. O estudo tem por objetivo caracterizar
o processo de trabalho em equipe na área da enfermagem
e conhecer a sua importância. Trata-se de um estudo
com abordagem qualitativa, baseado nos resultados da
pesquisa, através de artigos científicos e questionário aplicado
a equipe de enfermagem. Como instrumento para
coleta de dados foi utilizado questionário de perguntas objetivas
aplicado à equipe de enfermagem. Os dados foram
coletados em abril de 2016 em uma unidade hospitalar do
município de Maringá. Os resultados foram obtidos com 11
funcionários que responderam ao questionário, revelando
72,7% de satisfação com o trabalho em equipe, contra
27,3% de insatisfação, evidenciando resultado positivo. O
trabalho em equipe pode ser entendido como uma estratégia
para melhorar a efetividade do trabalho, o processo
saúde e doença dos clientes, a organização do trabalho e
proporcionar um ambiente mais harmonioso, além de elevar
a satisfação dos membros da equipe e com isso tornando
suas competências mais eficientes.
Downloads
Download data is not yet available.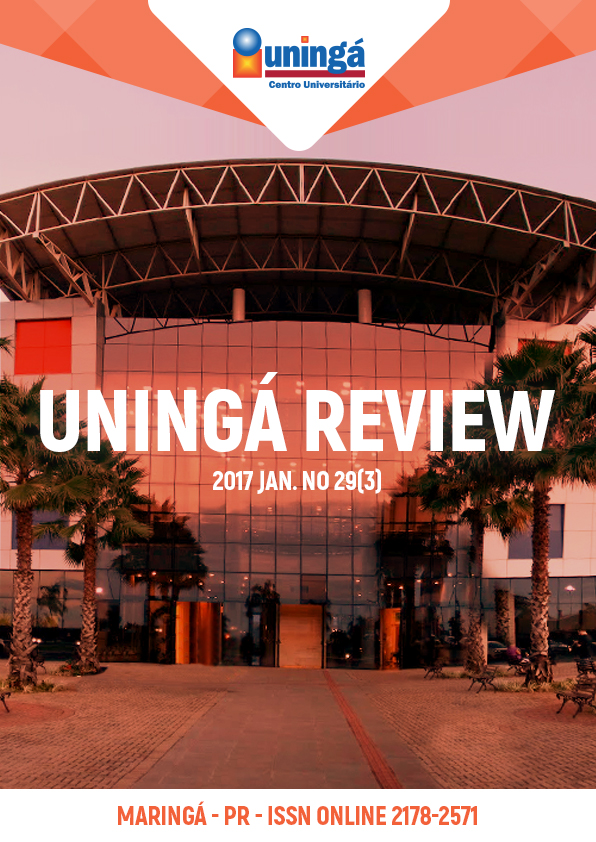 Downloads
How to Cite
LACCORT, A. D. A., & DE OLIVEIRA, G. B. (2017). A IMPORTÂNCIA DO TRABALHO EM EQUIPE NO CONTEXTO DA ENFERMAGEM. Uningá Review, 29(3). Retrieved from https://revista.uninga.br/uningareviews/article/view/1976
License
I declare/we declare that the text submitted here is original, of my own authorship and does not infringe any type of third party rights. The content is my/our sole responsibility. Possible research involving animals and/or human beings is in accordance with Resolution 196/96 of the National Health Council and its complements. I declare that I am/we are in possession of the written consent of patients and that the research and its procedures were timely and adequately approved by the Ethics Committee of the institution of origin. We further declare that all institutional affiliations and all sources of financial support for the work are duly informed. I certify that there is no commercial or associative interest that represents a conflict of interest related to the submitted work. If there is commercial interest, in addition to the technical and academic ones, in the publication of the article, the information will be reported during the text.