CONHECIMENTO DA EQUIPE DE ENFERMAGEM NA ASSISTÊNCIA AO PACIENTE EM PÓS-OPERATÓRIO DE TRANSPLANTE RENAL
Abstract
No intuito de investigar o conhecimento da equipe de enfermagem
na assistência ao paciente no período
pós-transplante renal, realizou-se a presente pesquisa
através de um questionário estruturado com questões pertinentes
aos cuidados realizados durante a internação até a
alta hospitalar junto a 50 funcionários que integram a
equipe de enfermagem em um centro transplantador de
grande porte situado no Noroeste do Estado do Paraná nos
meses de abril a maio de 2016. Os resultados obtidos demonstram
que os profissionais de enfermagem entrevistados
possuem pouco conhecimento sobre o tema abordado,
apesar de a Instituição ser referência em transplante renal
na região. Portanto, observa-se a necessidade de capacitação
contínua para os profissionais de enfermagem que
atendem esses pacientes, com treinamento de educação em
serviço e elaboração de um protocolo, visando à melhoria da
qualidade do atendimento prestado, redução das complicações
e a sobrevida desses pacientes.
Downloads
Download data is not yet available.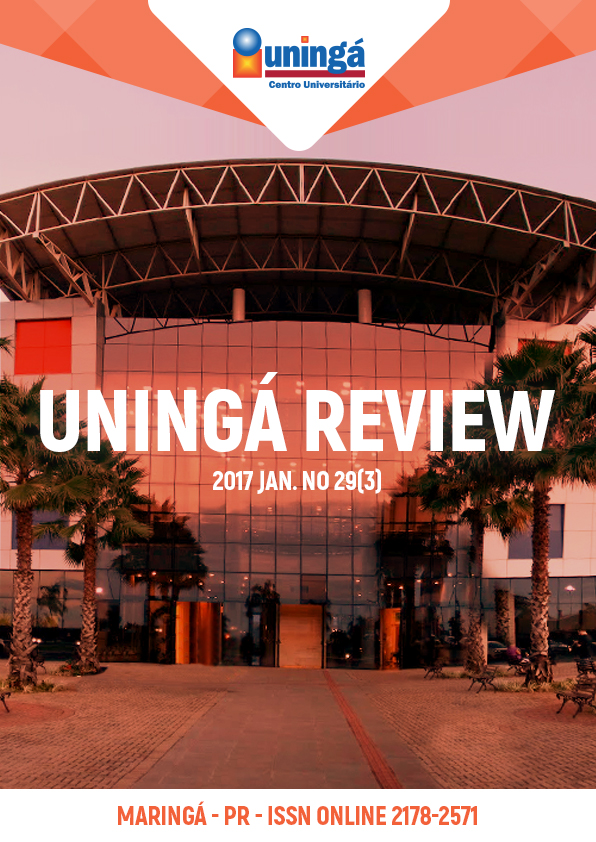 Downloads
How to Cite
DA CUNHA PRIMO, H. F. B., & HAYAKAWA, L. Y. (2017). CONHECIMENTO DA EQUIPE DE ENFERMAGEM NA ASSISTÊNCIA AO PACIENTE EM PÓS-OPERATÓRIO DE TRANSPLANTE RENAL. Uningá Review, 29(3). Retrieved from https://revista.uninga.br/uningareviews/article/view/1975
License
I declare/we declare that the text submitted here is original, of my own authorship and does not infringe any type of third party rights. The content is my/our sole responsibility. Possible research involving animals and/or human beings is in accordance with Resolution 196/96 of the National Health Council and its complements. I declare that I am/we are in possession of the written consent of patients and that the research and its procedures were timely and adequately approved by the Ethics Committee of the institution of origin. We further declare that all institutional affiliations and all sources of financial support for the work are duly informed. I certify that there is no commercial or associative interest that represents a conflict of interest related to the submitted work. If there is commercial interest, in addition to the technical and academic ones, in the publication of the article, the information will be reported during the text.