A IMPORTÂNCIA DO FARMACÊUTICO NA PROMOÇÃO DE ESTRATÉGIAS EM UNIDADES BÁSICAS DE SAÚDE DE BACABAL – MA
Abstract
O presente trabalho teve como objetivo analisar a importância
do farmacêutico na promoção de estratégias em
unidades básicas de saúde no município de Bacabal – MA.
Trata-se de uma pesquisa com delineamento transversal e
descritivo. Foram entrevistados 51 profissionais de saúde
das unidades básicas de saúde dos bairros Cohab e Areia.
Os dados da pesquisa foram obtidos através de questionários
aplicados aos profissionais nas UBS. Pode-se observar
que 35,28% (n=18) dos participantes encontravam-se na
faixa etária de 28 a 37 anos, sendo 84,31% (n=43) do sexo
feminino, 43,30% (n=22) ensino médio completo, 62,74%
(n=32) se autodeclararam pardos, 41,17% (n=21) solteiro e
49,01% (n=25) tinha renda mensal de 1 a 2 salários mínimos.
Verificou-se ainda, que a maioria dos profissionais relataram
não haver farmacêutico e que também não tinham
conhecimento do farmacêutico da sua respectiva unidade.
Além disso, foi observado que 49,01% entendem que o
farmacêutico deve atuar apenas no abastecimento, mas
60,78% acreditam que a presença deste profissional auxiliaria
em relação às informações corretas sobre medicamento.
Tendo em vista os resultados obtidos, faz-se necessário a
inserção do farmacêutico nas unidades de saúde, uma vez
que este profissional é tido como conhecedor de medicamento,
sendo fundamental para proteção e recuperação da
saúde.
Downloads
Download data is not yet available.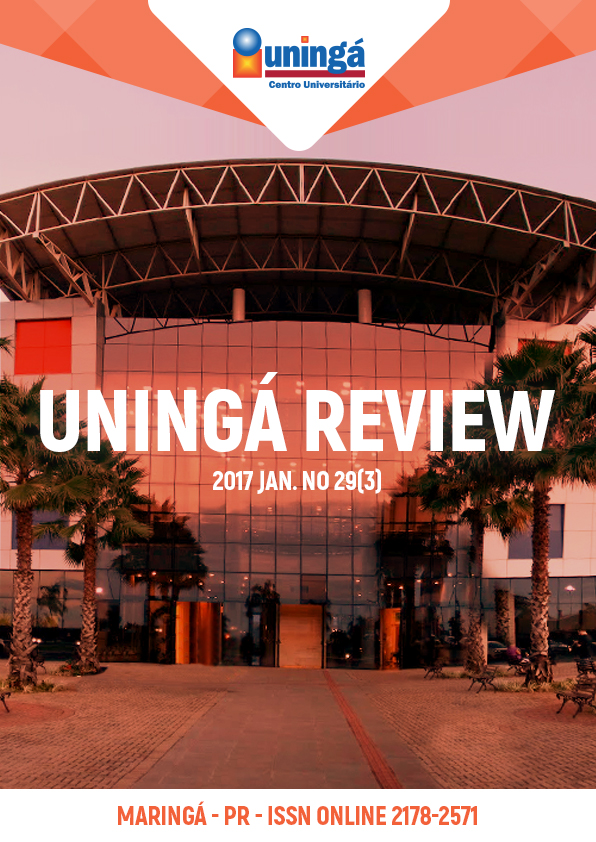 Downloads
How to Cite
NUNES, A. S., DA SILVA JÚNIOR, J. F., DA SILVA, A. F. L., SOUSA, W. R., & ALVES, C. M. S. (2017). A IMPORTÂNCIA DO FARMACÊUTICO NA PROMOÇÃO DE ESTRATÉGIAS EM UNIDADES BÁSICAS DE SAÚDE DE BACABAL – MA. Uningá Review, 29(3). Retrieved from https://revista.uninga.br/uningareviews/article/view/1972
License
I declare/we declare that the text submitted here is original, of my own authorship and does not infringe any type of third party rights. The content is my/our sole responsibility. Possible research involving animals and/or human beings is in accordance with Resolution 196/96 of the National Health Council and its complements. I declare that I am/we are in possession of the written consent of patients and that the research and its procedures were timely and adequately approved by the Ethics Committee of the institution of origin. We further declare that all institutional affiliations and all sources of financial support for the work are duly informed. I certify that there is no commercial or associative interest that represents a conflict of interest related to the submitted work. If there is commercial interest, in addition to the technical and academic ones, in the publication of the article, the information will be reported during the text.