PREVALÊNCIA DE PARASITOSES INTESTINAIS EM CRIANÇAS DE UM CENTRO MUNICIPAL DE EDUCAÇÃO INFANTIL DE CAMPO MOURÃO, PR / BRASIL
Abstract
As parasitoses intestinais são um grande problema enfrentado
pela população brasileira, principalmente, pelas crianças,
causando graves patogenias de saúde pública. Os
Centros Municipais de Educação Infantil (CMEI) são um
grande mediador para a ocorrência de enteroparasitoses
nas crianças, pois proporcionam um grande contato interpessoal
e ambiental entre crianças com diferentes condições
socioeconômicas. Desta forma o presente estudo buscou
avaliar a prevalência de parasitoses intestinais associada as
condições socioeconômicas das crianças de um CMEI de
Campo Mourão/Paraná. Foram analisadas 32 amostras
pelos métodos de Faust e Hoffman/Lutz, obtendo-se uma
positividade de 25% para enteroparasitoses. Os enteroparasitos
encontrados foram Giardia duodenalis, Entamoeba
coli, Endolimax nana e Dipylidium caninum. Em relação as
condições socioeconômicas, é importante destacar que
76,7% das famílias ingerem água direto da torneira e 83,3%
consomem verduras cruas lavadas somente com a água da
torneira, bem como um alto percentual de animais de estimação
presentes nas residências, com contato direto com as
crianças (73,3%). Desta forma é fundamental alertar e
orientar os pais e a equipe pedagógica, para a importância
do cuidado com o ambiente que as crianças vivem rotineiramente
e a manipulação dos alimentos/água.
Downloads
Download data is not yet available.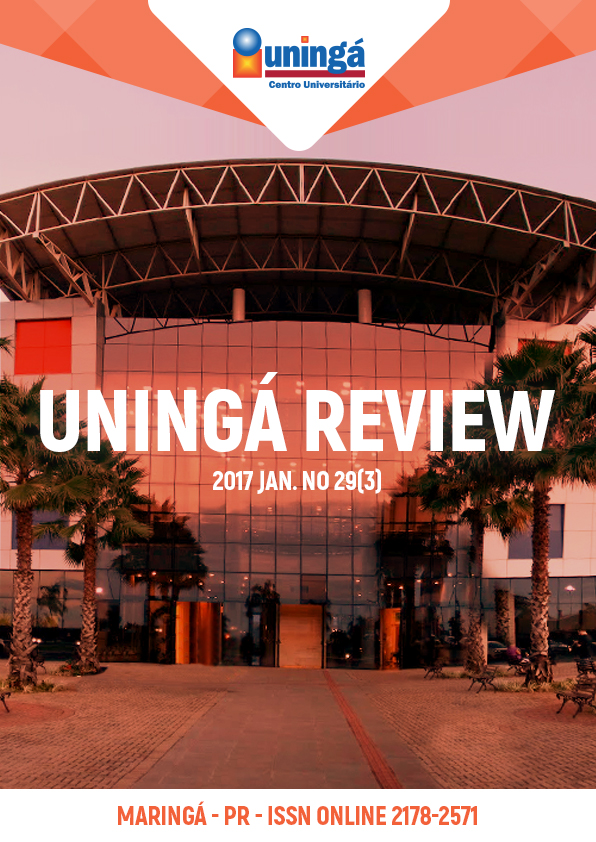 Downloads
How to Cite
ANDRADE, A. D. O., DE SÁ, A. R. N., & BEZAGIO, R. C. (2017). PREVALÊNCIA DE PARASITOSES INTESTINAIS EM CRIANÇAS DE UM CENTRO MUNICIPAL DE EDUCAÇÃO INFANTIL DE CAMPO MOURÃO, PR / BRASIL. Uningá Review, 29(3). Retrieved from https://revista.uninga.br/uningareviews/article/view/1971
License
I declare/we declare that the text submitted here is original, of my own authorship and does not infringe any type of third party rights. The content is my/our sole responsibility. Possible research involving animals and/or human beings is in accordance with Resolution 196/96 of the National Health Council and its complements. I declare that I am/we are in possession of the written consent of patients and that the research and its procedures were timely and adequately approved by the Ethics Committee of the institution of origin. We further declare that all institutional affiliations and all sources of financial support for the work are duly informed. I certify that there is no commercial or associative interest that represents a conflict of interest related to the submitted work. If there is commercial interest, in addition to the technical and academic ones, in the publication of the article, the information will be reported during the text.