PERFIL EPIDEMIOLÓGICO DOS ACIDENTES COM MATERIAL BIOLÓGICO NO MUNICÍPIO DE MARINGÁ / PARANÁ – 2014
Abstract
Constantemente profissionais da saúde submetem-se ao risco
de exposição a materiais biológicos e a consequência mais temida
é a transmissão de doenças infecciosas. Acidente de trabalho
com exposição à material biológico é agravo de notificação
compulsória por associar-se ao risco de contaminação por
mais de 20 tipos de patógenos. Através de um estudo retrospectivo
descritivo, com abordagem quantitativa, tem o objetivo
de avaliar o perfil epidemiológico e conduta dos acidentes notificados
no município de Maringá/Paraná no ano de 2014, por
meio de consulta ao Sistema de Informação de Agravos de
Notificação. Foi realizado estatística descritiva e proporções
dos 396 acidentes registrados, obtivemos com resultado idades
entre 14 e 65 anos; 78,3% sexo feminino; 50,8% profissionais
da área de enfermagem, 6,3% profissionais médicos, 19,2%
estudantes e 23,7% outros profissionais. Dos acidentes, 19,4%
ocorreram em circunstâncias de administração medicamentosa,
7,3% receberam quimioprofilaxia, 51% receberam alta sem
conversão sorológica e 43,4% por abandono. Conclui-se que o
estudo é de extrema relevância, pois, reconhecendo os acidentes
prevalentes, pode-se determinar riscos inerentes e intervenções
na sua redução, por meio de ações preventivas que
beneficiem profissionais e instituições. Ressalta-se também a
necessidade de orientar o profissional para adesão ao protocolo
de acompanhamento pós acidente.
Downloads
Download data is not yet available.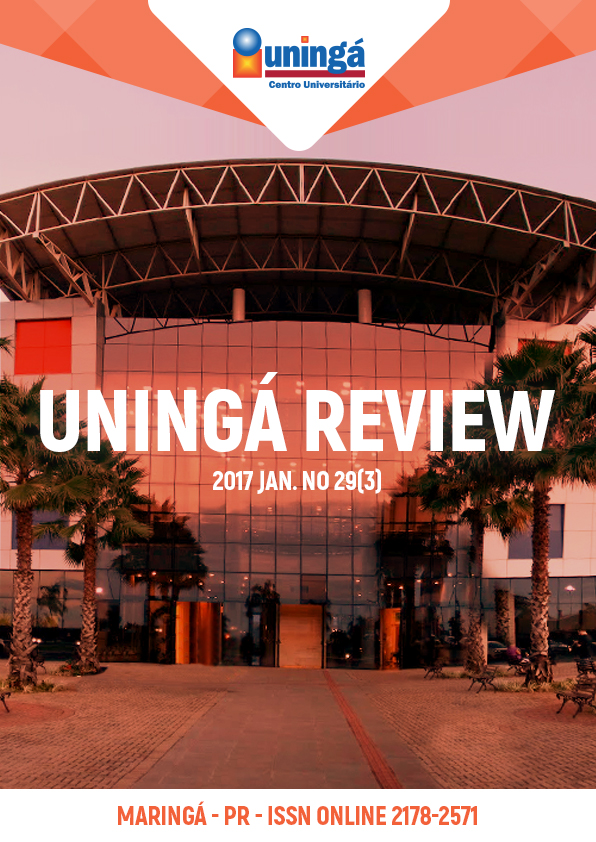 Downloads
How to Cite
DA SILVA, F. B. M., & FERNANDES, M. I. M. (2017). PERFIL EPIDEMIOLÓGICO DOS ACIDENTES COM MATERIAL BIOLÓGICO NO MUNICÍPIO DE MARINGÁ / PARANÁ – 2014. Uningá Review, 29(3). Retrieved from https://revista.uninga.br/uningareviews/article/view/1968
License
I declare/we declare that the text submitted here is original, of my own authorship and does not infringe any type of third party rights. The content is my/our sole responsibility. Possible research involving animals and/or human beings is in accordance with Resolution 196/96 of the National Health Council and its complements. I declare that I am/we are in possession of the written consent of patients and that the research and its procedures were timely and adequately approved by the Ethics Committee of the institution of origin. We further declare that all institutional affiliations and all sources of financial support for the work are duly informed. I certify that there is no commercial or associative interest that represents a conflict of interest related to the submitted work. If there is commercial interest, in addition to the technical and academic ones, in the publication of the article, the information will be reported during the text.