USOS TERAPÊUTICOS POTENCIAIS DO CANABIDIOL OBTIDO DA Cannabis sativa
Abstract
Marijuana, hashish, charas, bhang e sinsemilia são algumas
das designações dadas para a Cannabis sativa, um arbusto
da família Moraceae, com mais de 100 compostos identificados
a partir de suas glândulas de resina. Esses compostos
são chamados de canabinóides. Os dois principais canabinóides
são: o Δ9-tetrahidrocanabidiol (Δ9-THC) e o canabidiol
(CBD). Após essas descobertas outros compostos foram
isolados, como por exemplo, a anandamida
(N-aracdonil-etanolamina, AEA), que faz parte dos endocanabinóides,
ou seja, canabinóides que ocorrem endogenamente.
Há 4.000 antes de Cristo já havia relatos do uso
medicinal da Cannabis sativa, e na atualidade esta planta
tem muitas finalidades, tanto pelos efeitos provenientes do
Δ9-THC, como, euforia, alucinações, entre outros, quanto
pelo uso terapêutico, o qual CBD é responsável. Tanto o
CBD quanto o Δ9-THC ligam-se a receptores que estão
acoplados a proteína-G, em diversos órgão, os receptores
são denominados como CB1 e CB2. Além desses dois receptores
o CBD liga-se a outros tipos de receptores como,
TRPV, 5-HT1A, GPR55 e PPARγ, levando a diversos efeitos
terapêuticos.
Downloads
Download data is not yet available.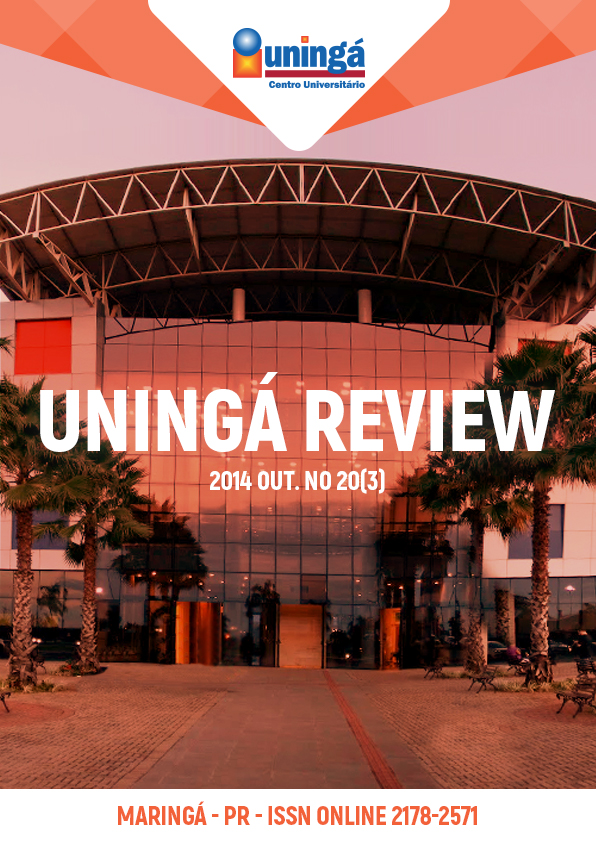 Downloads
How to Cite
PERNONCINI, K. V., & OLIVEIRA, R. M. M. W. (2014). USOS TERAPÊUTICOS POTENCIAIS DO CANABIDIOL OBTIDO DA Cannabis sativa. Uningá Review, 20(3). Retrieved from https://revista.uninga.br/uningareviews/article/view/1609
License
I declare/we declare that the text submitted here is original, of my own authorship and does not infringe any type of third party rights. The content is my/our sole responsibility. Possible research involving animals and/or human beings is in accordance with Resolution 196/96 of the National Health Council and its complements. I declare that I am/we are in possession of the written consent of patients and that the research and its procedures were timely and adequately approved by the Ethics Committee of the institution of origin. We further declare that all institutional affiliations and all sources of financial support for the work are duly informed. I certify that there is no commercial or associative interest that represents a conflict of interest related to the submitted work. If there is commercial interest, in addition to the technical and academic ones, in the publication of the article, the information will be reported during the text.