AS PROPRIEDADES ANTIOXIDATIVAS DO GOJI BERRY NO AUXÍLIO À MELHORA DO CENTRO DE ACUIDADE VISUAL, COM ABORDAGEM EM TRATAMENTOS DA RETINOPATIA DIABÉTICA
Abstract
O Goji Berry fruta da planta Lycium barbarum é utilizada há
muito tempo na medicina chinesa, na planta existem compostos
que agem como antioxidantes, esses são: zinco, zeaxantina,
luteína, vitaminas A, C e E, riboflavina (vitamina B2), beta-
caroteno, licopeno e taurina. Esses antioxidantes quando
aderidos à alimentação evidenciam vários benefícios a saúde,
tais como proteção solar da pele, anti-stress, combate à celulite
contribuindo com a perda de peso quando adicionado adequadamente
na dieta e somado à prática de exercícios físicos,
melhoram a acuidade visual, é utilizada também em tratamentos
antihipertensivos, forte aliado no combate a processos
infecciosos, possui ainda propriedades anti-inflamatórias e tem
uma grande influência no tratamento para infertilidade masculina.
Outra propriedade muito estudada atualmente são as
suas propriedades que auxiliam na proteção na retina. Atuando
de forma significativa no aumento da acuidade visual. No entanto
estudos mostram que além dos benefícios já relatados, a
planta possui interação medicamentosa quando utilizada em
associação à Varfarina, sua indicação por profissionais devem
restringir a associação com este anticoagulante. O presente
artigo sugere que mais estudos devem ser feitos com o objetivo
de analisar mais profundamente as propriedades antioxidantes
do Goji Berry e sua amplitude de ação.
Downloads
Download data is not yet available.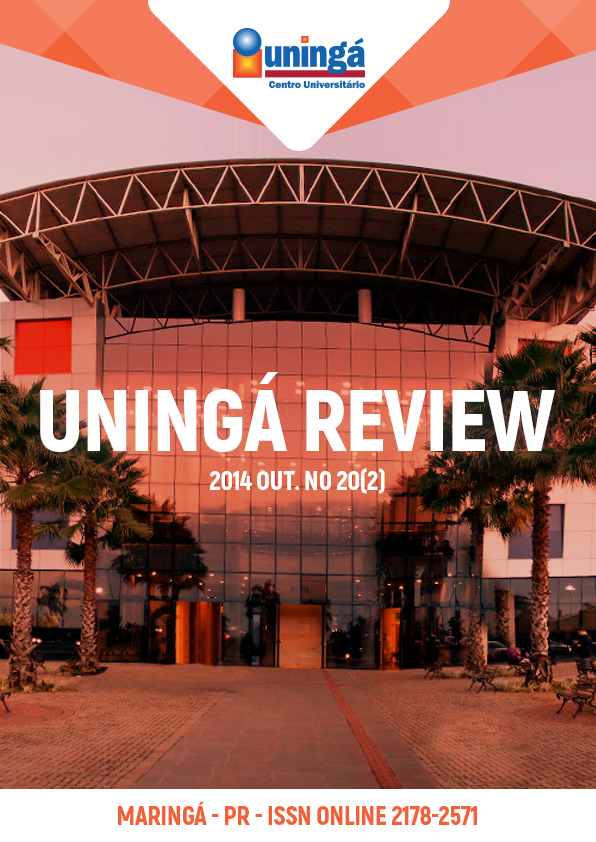 Downloads
How to Cite
CAVAZIM, P. F., & FREITAS, G. (2014). AS PROPRIEDADES ANTIOXIDATIVAS DO GOJI BERRY NO AUXÍLIO À MELHORA DO CENTRO DE ACUIDADE VISUAL, COM ABORDAGEM EM TRATAMENTOS DA RETINOPATIA DIABÉTICA. Uningá Review, 20(2). Retrieved from https://revista.uninga.br/uningareviews/article/view/1585
License
I declare/we declare that the text submitted here is original, of my own authorship and does not infringe any type of third party rights. The content is my/our sole responsibility. Possible research involving animals and/or human beings is in accordance with Resolution 196/96 of the National Health Council and its complements. I declare that I am/we are in possession of the written consent of patients and that the research and its procedures were timely and adequately approved by the Ethics Committee of the institution of origin. We further declare that all institutional affiliations and all sources of financial support for the work are duly informed. I certify that there is no commercial or associative interest that represents a conflict of interest related to the submitted work. If there is commercial interest, in addition to the technical and academic ones, in the publication of the article, the information will be reported during the text.