Parestesia do nervo lingual após extração de terceiros molares: revisão de literatura e relato de caso
Abstract
A exodontia de terceiros molares vem se tornando uma prática rotineira na clínica
odontológica seja ela realizada por especialistas ou não, bem como suas complicações
que incluem dentre outras, a parestesia do nervo lingual. A parestesia é um distúrbio
neuro-sensitivo causado por uma lesão no tecido neural seja esta direta ou indireta,
caracterizado, pela alteração das sensações normais devido à lesão dos ramos nervosos.
Sendo assim, este trabalho procura abordar as causas, formas de diagnóstico, tratamento
e prevenção, relativas à parestesia do nervo lingual. Infelizmente ainda dispomos de um
protocolo terapêutico realmente eficaz, sendo que a melhor forma de lidar com essa
complicação é a prevenção.
Downloads
Download data is not yet available.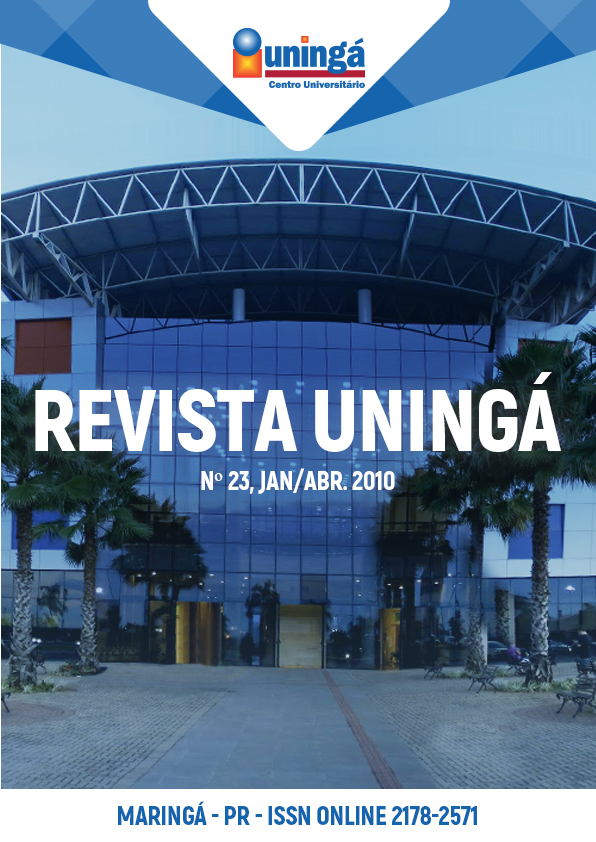 Downloads
How to Cite
FARDIN, A. C., GAETTI-JARDIM, E. C., JARDIM JÚNIOR, E. G., & ARANEGA, A. M. (2010). Parestesia do nervo lingual após extração de terceiros molares: revisão de literatura e relato de caso. Revista Uningá, 23(1). https://doi.org/10.46311/2318-0579.23.eUJ869
License
I declare/we declare that the text submitted here is original, of my own authorship and does not infringe any type of third party rights. The content is my/our sole responsibility. Possible research involving animals and/or human beings is in accordance with Resolution 196/96 of the National Health Council and its complements. I declare that I am/we are in possession of the written consent of patients and that the research and its procedures were timely and adequately approved by the Ethics Committee of the institution of origin. We further declare that all institutional affiliations and all sources of financial support for the work are duly informed. I certify that there is no commercial or associative interest that represents a conflict of interest related to the submitted work. If there is commercial interest, in addition to the technical and academic ones, in the publication of the article, the information will be reported during the text.