DISCALCULIA: DEFINIÇÃO, CAUSAS, DIAGNÓSTICOS E TERAPIAS À LUZ DA PEDAGOGIA.
Keywords:
Discalculia, Transtornos da Aprendizagem, Educação
Abstract
A sociedade da informação elevou o valor da matemática. Este é um desafio para as escolas e sociedades, pois as diferenças individuais são grandes, no sentido do número e habilidades básicas de cálculo. Segundo RASANEN (2012) de 5% a 7% das crianças em idade escolar têm grandes dificuldades para acompanhar as demandas curriculares.  Com a intenção de esclarecer esse transtorno de aprendizagem pouco estudado nacionalmente o presente trabalho trata da definição, etiologia, diagnósticos e terapias da Discalculia do Desenvolvimento (DD), discutidos sob a luz da pedagogia. Notou-se a importância do diagnóstico precoce por uma equipe multidisciplinar de neuropsicólogos, fonoaudiólogos e neurologistas especializados no assunto. O encaminhamento do professor e o cuidado dos pais são fundamentais para a ressocialização e inclusão do portador da DD. Foram encontrados 44 artigos nas bases de dados LILACS e MEDLINE publicados nos últimos quatro anos (2009 a 2013), sendo que após a análise de inclusão e exclusão de artigos foram trabalhados 31. Concluiu-se que poucos são os artigos sobre o assuntos e muito menor o número de artigos nacionais, prevalecendo os artigos internacionais, ou seja, pouco se estuda sobre a DD no Brasil.
Downloads
Download data is not yet available.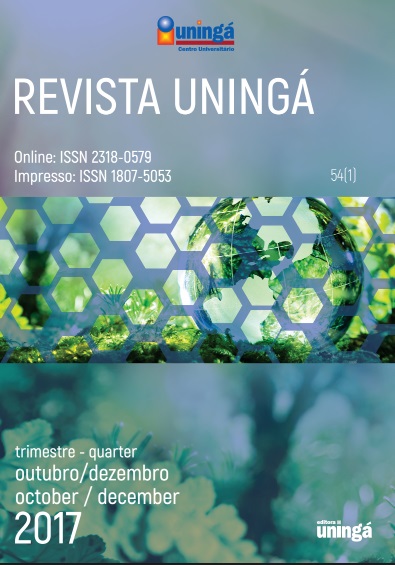 Downloads
How to Cite
Castro, R., & Castro, M. C. N. (2017). DISCALCULIA: DEFINIÇÃO, CAUSAS, DIAGNÓSTICOS E TERAPIAS À LUZ DA PEDAGOGIA. Revista Uningá, 54(1). https://doi.org/10.46311/2318-0579.54.eUJ15
License
I declare/we declare that the text submitted here is original, of my own authorship and does not infringe any type of third party rights. The content is my/our sole responsibility. Possible research involving animals and/or human beings is in accordance with Resolution 196/96 of the National Health Council and its complements. I declare that I am/we are in possession of the written consent of patients and that the research and its procedures were timely and adequately approved by the Ethics Committee of the institution of origin. We further declare that all institutional affiliations and all sources of financial support for the work are duly informed. I certify that there is no commercial or associative interest that represents a conflict of interest related to the submitted work. If there is commercial interest, in addition to the technical and academic ones, in the publication of the article, the information will be reported during the text.