AVALIAÇÃO DE UM PROGRAMA EDUCATIVO SOBRE PARASITOSES INTESTINAIS IMPLEMENTADO EM UMA COMUNIDADE ESCOLAR PELO OLHAR DO PROFESSOR
Abstract
Para promover hábitos e atitudes de vida saudável entre a
comunidade é necessário construir conhecimentos por
meio de programas de educação em saúde e a escola é um
importante espaço para o desenvolvimento destas atividades.
Ao se implementar um programa de educação em
saúde, é preciso avaliar sua eficácia bem como o processo
de como isso é conseguido, a fim de oferecer uma estrutura
para futuras atividades de educação em saúde. Dessa forma,
investigamos a opinião dos professores que presenciaram
e participaram de atividades educativas sobre parasitoses
intestinais realizadas numa Escola Municipal de
Ensino Fundamental do município de Ribeirão Preto-SP.
Pesquisa qualitativa e descritiva, onde se procurou retratar
a perspectiva dos sujeitos de pesquisa. Estes eram cinco
professores que participaram das atividades educativas
sobre verminoses intestinais com os alunos da 1ª a 4ª série,
ocorridas no 1° semestre de 2011. Para a coleta de dados,
foi elaborado um roteiro semi-estruturado. O projeto foi
submetido e aprovado pelo Comitê de Ética e Pesquisa da
EERP-USP, Protocolo: nº1347/2011. Os resultados mostram
que o programa educativo foi elaborado e implementado
de forma adequada e surtiu um efeito positivo
sobre a mudança de hábitos de higiene nos alunos envolvidos.
Downloads
Download data is not yet available.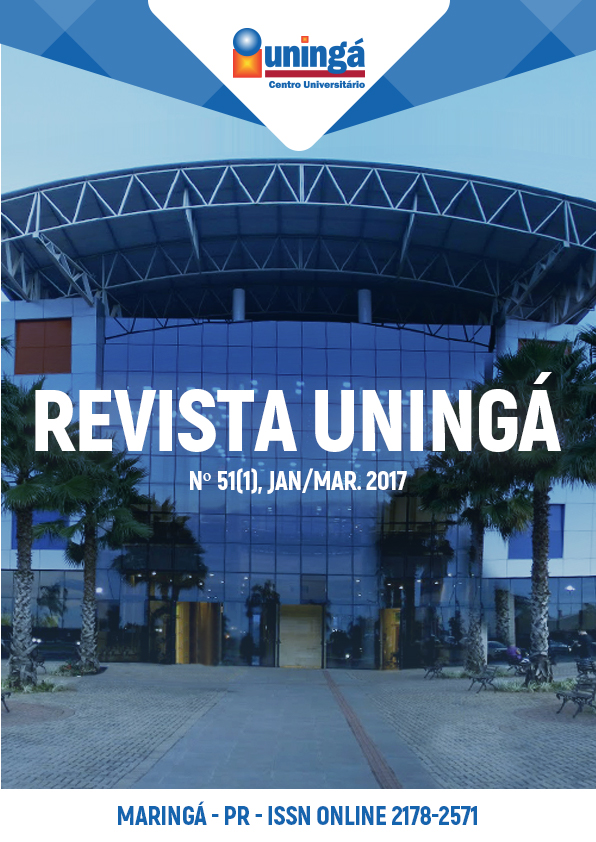 Downloads
How to Cite
BRAGAGNOLLO, G. R., DE TOLEDO, P. C. G., MORERO, J. A. P., SCARPINI, N. A. M., & FERREIRA, B. R. (2017). AVALIAÇÃO DE UM PROGRAMA EDUCATIVO SOBRE PARASITOSES INTESTINAIS IMPLEMENTADO EM UMA COMUNIDADE ESCOLAR PELO OLHAR DO PROFESSOR. Revista Uningá, 51(1). https://doi.org/10.46311/2318-0579.51.eUJ1343
License
I declare/we declare that the text submitted here is original, of my own authorship and does not infringe any type of third party rights. The content is my/our sole responsibility. Possible research involving animals and/or human beings is in accordance with Resolution 196/96 of the National Health Council and its complements. I declare that I am/we are in possession of the written consent of patients and that the research and its procedures were timely and adequately approved by the Ethics Committee of the institution of origin. We further declare that all institutional affiliations and all sources of financial support for the work are duly informed. I certify that there is no commercial or associative interest that represents a conflict of interest related to the submitted work. If there is commercial interest, in addition to the technical and academic ones, in the publication of the article, the information will be reported during the text.