Tricotomia Cirúrgica: Uma prática a ser avaliada
Abstract
O objetivo deste estudo foi realizar um levantamento sobre os métodos de
tricotomia no pré-operatório realizados em todos os hospitais públicos, privados e
filantrópicos que realizam cirurgias, no município de Maringá-PR. A coleta de dados foi
realizada através de um questionário de dez perguntas objetivas, realizadas pelo próprio
autor da pesquisa, durante o período de maio a junho de 2010. Os resultados
demonstram que de sete hospitais pesquisados, seis (85,8%) afirmam que não realizam
tricotomia em todos os pacientes cirúrgicos. Em todos os hospitais a poda de pêlos é
feita com o auxilio de um aparelho elétrico-tricotomizador, um deles também afirma
utilizar lâmina descartável quando o volume de pêlos é menor. Todos realizam
desinfecção do aparelho usado após o uso. Com relação a uma normativa escrita sobre a
técnica de tricotomia, seis (85,8%) a possuem e seguem. Os indicadores do período
usado para a realização da poda dos pêlos pré-cirúrgicos mostram que três (43,1%)
hospitais realizam em até 2 horas antes do ato cirúrgico. O preparo da pele antes da
tricotomia não é feito por quatro (57,4%) hospitais. Conclui-se que a maioria dos
hospitais realizam o procedimento de tricotomia da maneira correta, como é proposta
pela literatura, tendo assim um comprometimento com a segurança do paciente,
automaticamente minimizando o risco de contrair alguma infecção.
Downloads
Download data is not yet available.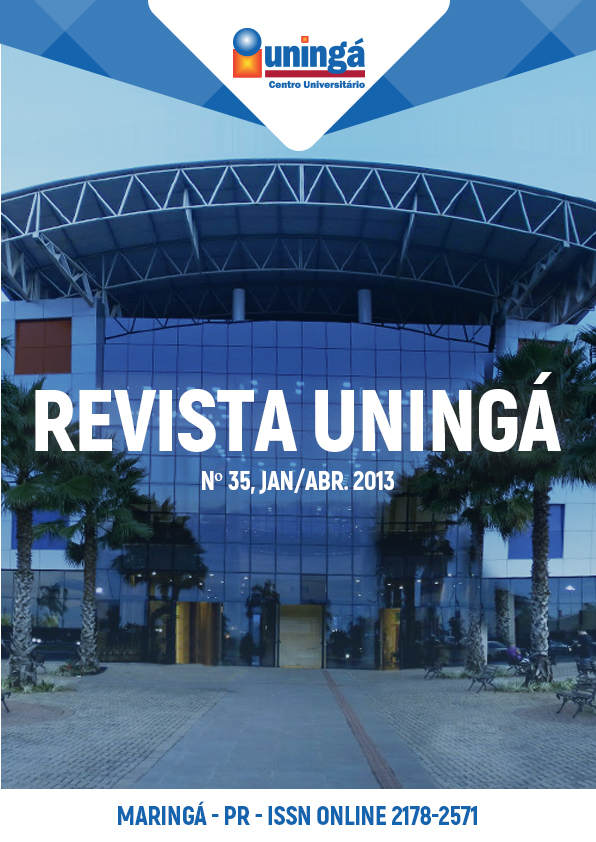 Downloads
How to Cite
PERES, M. M., & GATTO, L. (2013). Tricotomia Cirúrgica: Uma prática a ser avaliada. Revista Uningá, 35(1). https://doi.org/10.46311/2318-0579.35.eUJ1083
License
I declare/we declare that the text submitted here is original, of my own authorship and does not infringe any type of third party rights. The content is my/our sole responsibility. Possible research involving animals and/or human beings is in accordance with Resolution 196/96 of the National Health Council and its complements. I declare that I am/we are in possession of the written consent of patients and that the research and its procedures were timely and adequately approved by the Ethics Committee of the institution of origin. We further declare that all institutional affiliations and all sources of financial support for the work are duly informed. I certify that there is no commercial or associative interest that represents a conflict of interest related to the submitted work. If there is commercial interest, in addition to the technical and academic ones, in the publication of the article, the information will be reported during the text.