Pesquisa de fatores que influenciam a pressão arterial
Abstract
Devido à ausência de sintomas específicos a hipertensão arterial está
longe de atingir o controle adequado apesar de ser reconhecida como um
problema de saúde pública, mesmo que esta esteja estritamente
relacionada ao risco de eventos cardiovasculares, acidente vascular
encefálico e doença renal. O diagnóstico da hipertensão arterial é baseado
em aferições múltiplas e avaliação laboratorial quando esta apresenta
sinais de hipertensão arterial secundária. Exames complementares devem
ser feitos em pacientes jovens e naqueles com desenvolvimento brusco da
doença. O tratamento tem como foco diminuir a morbidade e mortalidade
cardiovascular e renal. A terapia anti-hipertensiva tem como função a
própria redução dos níveis elevados da pressão arterial, tendo como aliado
para esta terapia tratamento com fármacos e dietas balanceadas.
Downloads
Download data is not yet available.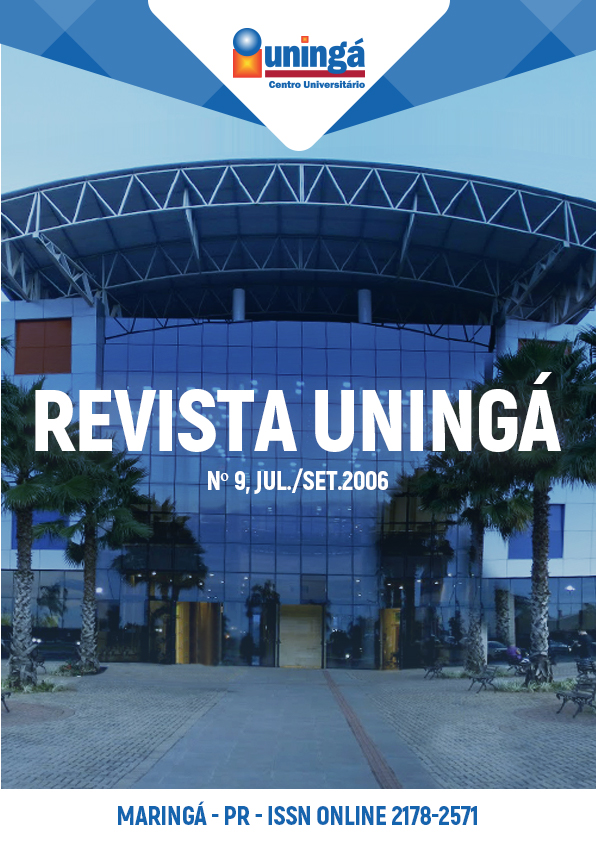 Downloads
How to Cite
GIROLDO, A. C., BORSATTO, S. C., DE MATOS, S. H. M., DE CARVALHO, T. F., & MARCOLINO, V. A. (2006). Pesquisa de fatores que influenciam a pressão arterial. Revista Uningá, 9(1). https://doi.org/10.46311/2318-0579.9.eUJ476
License
I declare/we declare that the text submitted here is original, of my own authorship and does not infringe any type of third party rights. The content is my/our sole responsibility. Possible research involving animals and/or human beings is in accordance with Resolution 196/96 of the National Health Council and its complements. I declare that I am/we are in possession of the written consent of patients and that the research and its procedures were timely and adequately approved by the Ethics Committee of the institution of origin. We further declare that all institutional affiliations and all sources of financial support for the work are duly informed. I certify that there is no commercial or associative interest that represents a conflict of interest related to the submitted work. If there is commercial interest, in addition to the technical and academic ones, in the publication of the article, the information will be reported during the text.