EVALUATION OF THE ORAL HEALTH CONDITION IN HYPERTENSIVE AND DIABETIC PATIENTS ASSISTED BY THE DENTAL CLINICS OF ASCES / UNITA
Centro Universitário Tabosa de Almeida
Keywords:
Body Mass Index, . Dental Care, Diabetes Mellitus, Hypertension, Oral Health
Abstract
Diabetes Mellitus (DM) and Systemic Arterial Hypertension (SAH) are systemic morbidities capable of compromising the quality of life of individuals, in addition, there is evidence in the literature of the bidirectional relationship between SAH and DM with oral health, such as high DMFT (Decayed, Lost or Filled Tooth) and periodontal disease, which is common in diabetic patients due to low immunity. This study aimed to evaluate the profile of hypertensive and diabetic patients assisted by the Dental Clinics of the Centro Universitário Tabosa de Almeida ASCES-UNITA, through an observational, field, exploratory and cross-sectional study, in patients seen in the first semester of 2018, which occurred through the collection of data on the general health of the patient, measurement of anthropometric data, blood pressure and glucose, evaluation of DMFT (Carious, Lost or Filled Teeth), and RPS (Simplified Periodontal Record). The study demonstrated a profile of diabetic and hypertensive patients like other studies, relating the loss of dental elements and diabetes and / or hypertension and advanced age. The sample presented several risk factors for the worsening of the clinical situation, such as high BMI (Body Mass Index), classifying it as overweight or obesity, in addition, a high DMFT was highlighted, pointing out the need for a multidisciplinary approach in order to improve the quality of life of assisted patients. There is a relationship between the loss of dental elements, diabetes and / or hypertension and old age, due to immune deficiency, lack of medical follow-up and hygiene and disease prevention instructions, also needing to expand access to dental services for this population.
Downloads
Download data is not yet available.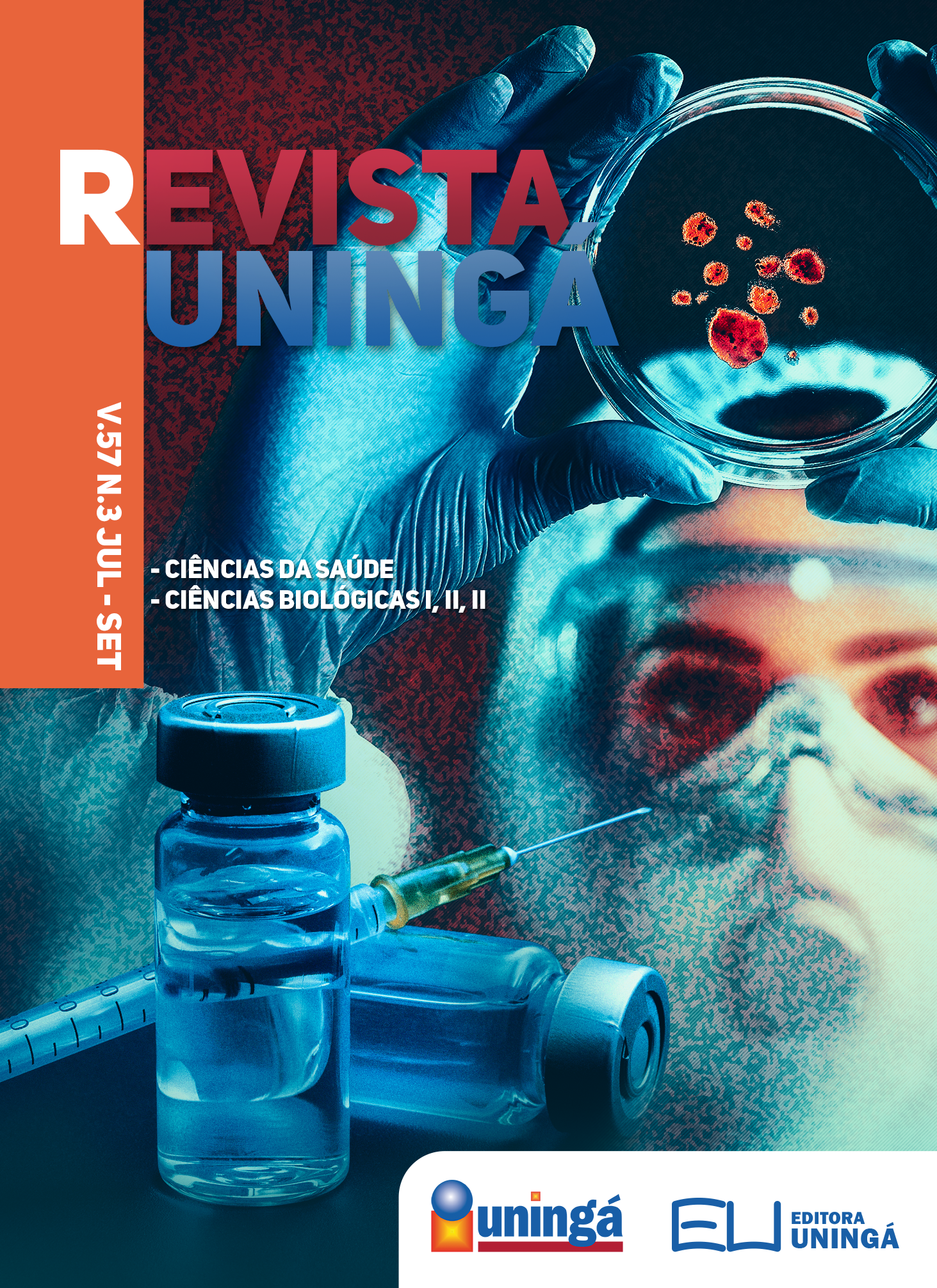 Downloads
How to Cite
Costa, M. da R., Oliveira, W. W. S. de, Oliveira Filho, R. C. de, Melo, E. H. de, & Lorena Sobrinho, J. E. de. (2020). EVALUATION OF THE ORAL HEALTH CONDITION IN HYPERTENSIVE AND DIABETIC PATIENTS ASSISTED BY THE DENTAL CLINICS OF ASCES / UNITA: Centro Universitário Tabosa de Almeida. Revista Uningá, 57(3), 29–38. https://doi.org/10.46311/2318-0579.57.eUJ3338
License
I declare/we declare that the text submitted here is original, of my own authorship and does not infringe any type of third party rights. The content is my/our sole responsibility. Possible research involving animals and/or human beings is in accordance with Resolution 196/96 of the National Health Council and its complements. I declare that I am/we are in possession of the written consent of patients and that the research and its procedures were timely and adequately approved by the Ethics Committee of the institution of origin. We further declare that all institutional affiliations and all sources of financial support for the work are duly informed. I certify that there is no commercial or associative interest that represents a conflict of interest related to the submitted work. If there is commercial interest, in addition to the technical and academic ones, in the publication of the article, the information will be reported during the text.