USO DA CRIOTERAPIA NA DOR PÓS-OPERATÓRIA DE DENTES TRATADOS ENDODONTICAMENTE
Abstract
A dor após o tratamento do sistema de canais radiculares é uma sensação comum, que pode começar algumas horas até dias após o procedimento. Diversos mecanismos têm sido propostos para o controle da dor. O uso da crioterapia na Endodontia vem sendo relatado sob diferentes formas, que incluem a intraoral, extraoral e intracanal. Através de uma Revisão de Literatura, a pesquisa buscou relatar o uso da crioterapia na dor pós-operatória de dentes tratados endodonticamente, bem como descrever os diferentes protocolos de crioterapia utilizados na Endodontia. As buscas foram realizadas sem restrição temporal nas bases eletrônicas de dados: Scopus, Lilacs, PubMed/MEDLINE e no Scielo. As publicações foram em língua portuguesa e inglesa, empregando as seguintes palavras-chave: crioterapia intracanal, endodontia, intracanal cryotherapy, endodontics. O uso da crioterapia na dor pós-operatória de dentes tratados endodonticamente tem se mostrado efetiva no controle de tal reação. Entretanto, a possibilidade de repercussões negativas nas estruturas dentárias faz com que necessitemos de cautela para que este procedimento se torne uma realidade clínica diária.
Downloads
Download data is not yet available.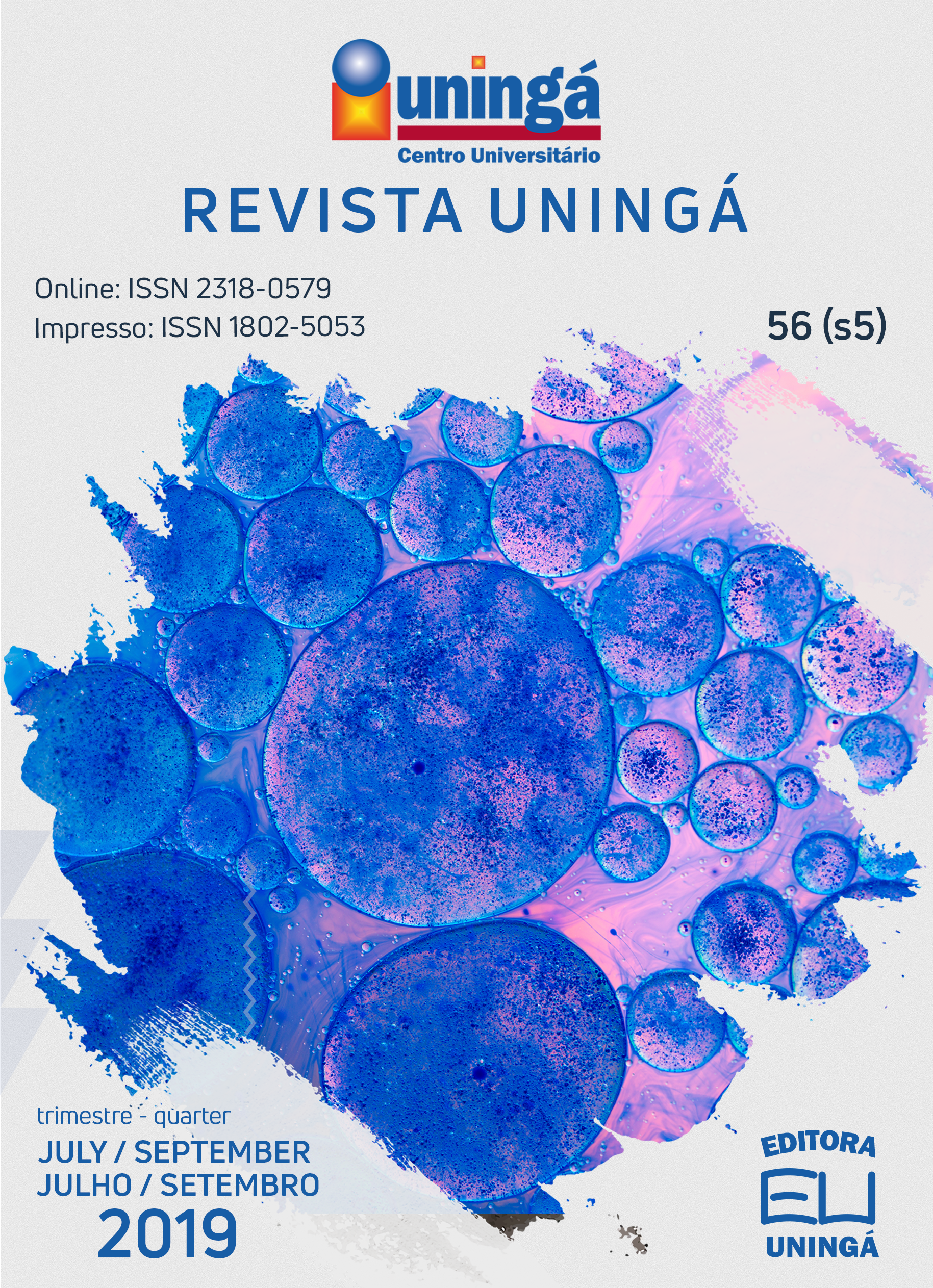 Downloads
How to Cite
Silva, S. de A., Telles, C. T. V., Vieira, T. M., Almeida, A. C., & Albuquerque, D. S. (2019). USO DA CRIOTERAPIA NA DOR PÓS-OPERATÓRIA DE DENTES TRATADOS ENDODONTICAMENTE. Revista Uningá, 56(S5), 130–136. https://doi.org/10.46311/2318-0579.56.eUJ2932
License
I declare/we declare that the text submitted here is original, of my own authorship and does not infringe any type of third party rights. The content is my/our sole responsibility. Possible research involving animals and/or human beings is in accordance with Resolution 196/96 of the National Health Council and its complements. I declare that I am/we are in possession of the written consent of patients and that the research and its procedures were timely and adequately approved by the Ethics Committee of the institution of origin. We further declare that all institutional affiliations and all sources of financial support for the work are duly informed. I certify that there is no commercial or associative interest that represents a conflict of interest related to the submitted work. If there is commercial interest, in addition to the technical and academic ones, in the publication of the article, the information will be reported during the text.