DISTÚRBIOS MOTORES RELACIONADOS AO MAL DE PARKINSON E A DOPAMINA
Abstract
A doença de Parkinson é uma doença neurodegenerativa caracterizada pela depleção da dopamina, morte dos neurônios dopaminérgicos da substância negra da via nigroestriatal e presença de inclusão neurofibrilares nos neurônios ativos. A substância negra esta interconectada com todas as regiões do cérebro, estas recebem inervações glutamatérgicas e enviam projeções diretas e indiretas, modulando a atividade dos neurônios dopaminérgicos, assim, a perda de dopamina no estriado causa alterações químicas monoaminérgicas levando ao aumento e diminuição da atividade neuronal nas áreas motoras do córtex cerebral. Este estudo tem por objetivo compreender a relação dos neurônios dopaminérgicos com os sintomas clínicos na doença de Parkinson, investigar a disfunção fisiológica e apontar as alterações morfológicas do sistema nervoso central.  Foi realizada uma pesquisa descritiva do tipo revisão bibliográfica, através de documentos disponíveis nas bases de dados: LILACS, SCIELO, PUBMED e Google Acadêmico, utilizando-se os seguintes descritores: doença de Parkinson, dopamina, gânglios da base e neurônios dopaminérgicos. Foram selecionados documentos que incluíssem: dissertações, teses, artigos e livros que abordassem o tema, entre os anos de 2008 a 2018, disponíveis na integra nos idiomas português e inglês. Revisamos como a dopamina se adéqua no SNC e os prejuízos causados devido sua disfunção na doença de Parkinson. De forma geral, este estudo mostra a importância do equilíbrio fisiológico entre as vias neuronais, estabelecendo a relação das estruturas cerebrais com os neurotransmissores responsáveis pelo planejamento e execução do movimento juntamente com as alterações físicas que ela provoca.
Downloads
Download data is not yet available.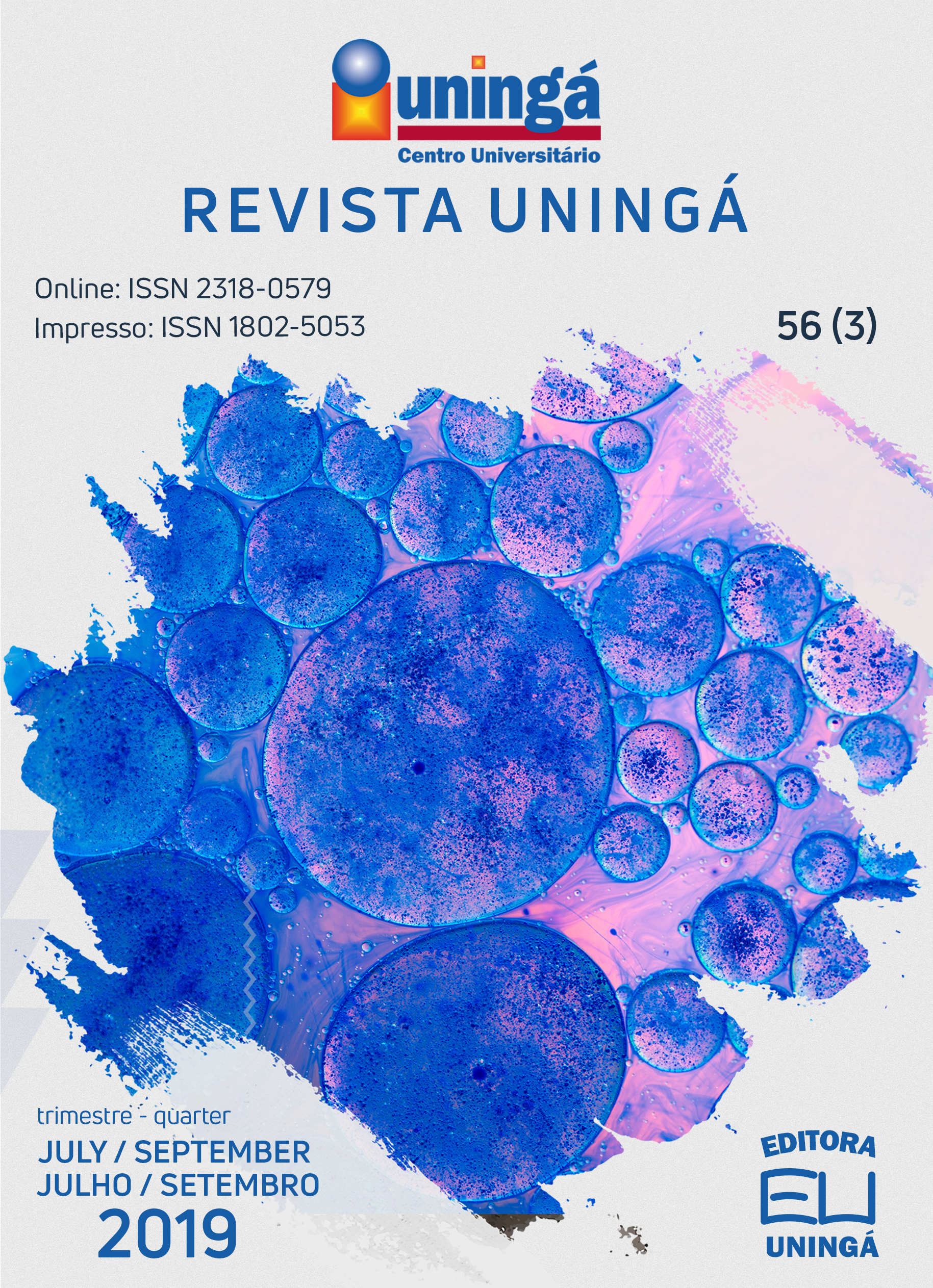 Downloads
How to Cite
Brito, G. M. R. de, & Souza, S. R. G. de. (2019). DISTÚRBIOS MOTORES RELACIONADOS AO MAL DE PARKINSON E A DOPAMINA. Revista Uningá, 56(3), 95–105. https://doi.org/10.46311/2318-0579.56.eUJ2866
License
I declare/we declare that the text submitted here is original, of my own authorship and does not infringe any type of third party rights. The content is my/our sole responsibility. Possible research involving animals and/or human beings is in accordance with Resolution 196/96 of the National Health Council and its complements. I declare that I am/we are in possession of the written consent of patients and that the research and its procedures were timely and adequately approved by the Ethics Committee of the institution of origin. We further declare that all institutional affiliations and all sources of financial support for the work are duly informed. I certify that there is no commercial or associative interest that represents a conflict of interest related to the submitted work. If there is commercial interest, in addition to the technical and academic ones, in the publication of the article, the information will be reported during the text.