RESTAURAÇÕES ESTÉTICAS ANTERIORES DIRETAS E INDIRETAS: REVISÃO DE LITERATURA
Keywords:
Resina composta, Facetas estéticas, Cerâmicas, Estudos de acompanhamento, Sobrevida
Abstract
Atualmente há uma busca crescente pela melhoria da estética do sorriso juntamente com a evolução dos materiais restauradores odontológicos que vem aperfeiçoando e melhorando técnicas adesivas minimamente invasivas, sendo de suma importância para os profissionais da área odontológica, compreender e dominar sobre esse assunto. As restaurações do tipo faceta confeccionadas em resina composta ou em cerâmicas odontológicas são procedimentos estéticos amplamente indicados principalmente quando há alterações na morfologia da estrutura dental, na coloração e textura de superfície além de divergências de simetria e proporção. Este trabalho visa abordar através de uma revisão de literatura sobre restaurações diretas em resina composta e indiretas em cerâmica realizadas em dentes anteriores apontando suas principais vantagens, desvantagens fatores de sucesso e principais motivos de falha que irão influir sobre sua longevidade clínica. Pode-se concluir que as restaurações diretas e indiretas em dentes anteriores apresentam um alto índice de sucesso clínico em longo prazo, sendo o motivo de falha das facetas de resina composta relacionadas à estética, já as facetas em cerâmica apresentaram como principal falha a fratura da restauração. Entretanto quando bem indicadas e executadas a taxa de sobrevida destes procedimentos é considerada alta.
Downloads
Download data is not yet available.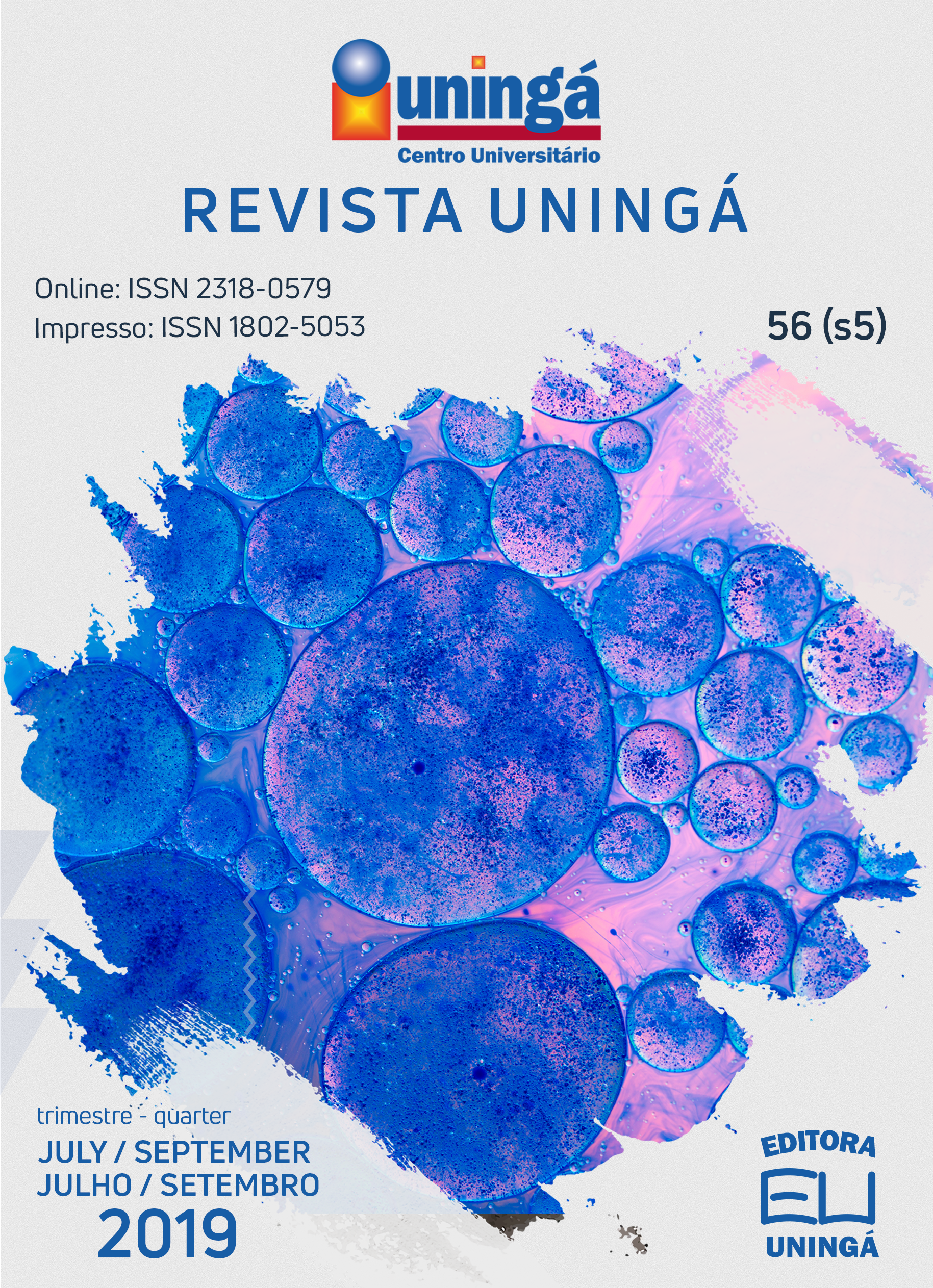 Downloads
How to Cite
Carrijo, D. J., Freitas Ferreira, J. L., & Santiago, F. L. (2019). RESTAURAÇÕES ESTÉTICAS ANTERIORES DIRETAS E INDIRETAS: REVISÃO DE LITERATURA. Revista Uningá, 56(S5), 1–11. https://doi.org/10.46311/2318-0579.56.eUJ2716
License
I declare/we declare that the text submitted here is original, of my own authorship and does not infringe any type of third party rights. The content is my/our sole responsibility. Possible research involving animals and/or human beings is in accordance with Resolution 196/96 of the National Health Council and its complements. I declare that I am/we are in possession of the written consent of patients and that the research and its procedures were timely and adequately approved by the Ethics Committee of the institution of origin. We further declare that all institutional affiliations and all sources of financial support for the work are duly informed. I certify that there is no commercial or associative interest that represents a conflict of interest related to the submitted work. If there is commercial interest, in addition to the technical and academic ones, in the publication of the article, the information will be reported during the text.