MALFORMAÇÃO DE CHIARI I: RELATO DE CASO
Keywords:
Malformação de Chiari I, descompressão da fossa posterior, cefaleia occipital, hidromielia
Abstract
RESUMO
Introdução: A Malformação de Chiari tipo I é uma alteração congênita e pouco prevalente que é originária de anomalias estruturais da base do crânio com uma fossa craniana posterior hipoplásica que leva à herniação das tonsilas cerebelares pelo forame magno. Relato do caso: Relatamos um paciente com Malformação de Chiari tipo I diagnosticado após trauma crânio-encefálico com exames de imagem que não mostraram alterações relacionadas ao trauma, entretanto com achado da anomalia, evidenciada pela insinuação inferior das tonsilas cerebelares no forame magno por cerca de 1,8 cm, hidromielia e coleções císticas na fossa posterior. Correlacionados o achado de imagem com sintomas prévios do paciente característicos, indicou-se a cirurgia e foi submetido à descompressão da fossa posterior do crânio com boa evolução. Conclusão: O tratamento cirúrgico adequado é capaz de obter resultados satisfatórios e duradouros com melhoria da qualidade de vida dos pacientes.
Palavras chave: Malformação de Chiari I, descompressão da fossa posterior, cefaleia occipital, hidromielia
ABSTRACT
Introduction: Chiari Malformation Type I is a congenital and less prevalent alteration that originates from structural abnomalities of the skull base with a hypoplasic posterior cranial fossa leading to herniation of the cerebellar tonsils by the foramen magnum. Case report: We report a pacient with Chiari Malformation Type I diagnosed after cranioencephalic trauma with imaging tests that showed no trauma-related changes, however with anomaly finding, evidenced by the inferior insinuation of the cerebellar tonsils in the foramen magnum for about 1.8 cm, hydromielia and cystic collections in the posterior fossa. Correlated the image finding with charateristics patient's previous symptoms, the surgery was indicated and was submitted to decompression  of the posterior fossa of the skull with good evolution. Conclusion: The adequate surgical treatment  is capable of obtaining satisfactory and long-lasting results with improvement of patients quality of life.
Keywords: Chiari malformation Type I, posterior fossa decompression, occipital headache, hydromyelia.
Downloads
Download data is not yet available.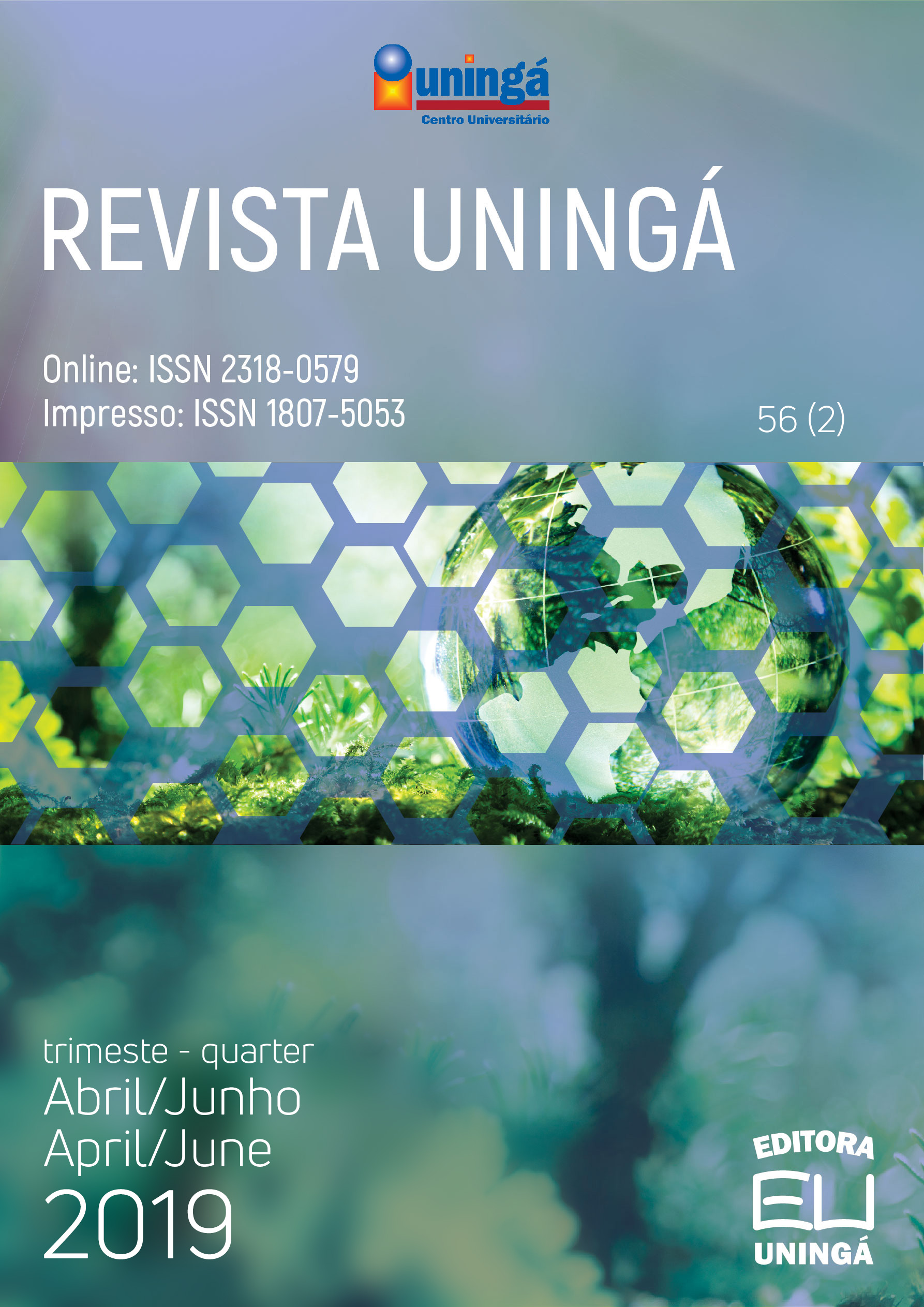 Downloads
How to Cite
de Souza, I. A., Gomes, M. B., Ramires, G. E., Campos, F. F. de, & Baracat, F. I. (2019). MALFORMAÇÃO DE CHIARI I: RELATO DE CASO. Revista Uningá, 56(2), 44–49. https://doi.org/10.46311/2318-0579.56.eUJ2714
License
I declare/we declare that the text submitted here is original, of my own authorship and does not infringe any type of third party rights. The content is my/our sole responsibility. Possible research involving animals and/or human beings is in accordance with Resolution 196/96 of the National Health Council and its complements. I declare that I am/we are in possession of the written consent of patients and that the research and its procedures were timely and adequately approved by the Ethics Committee of the institution of origin. We further declare that all institutional affiliations and all sources of financial support for the work are duly informed. I certify that there is no commercial or associative interest that represents a conflict of interest related to the submitted work. If there is commercial interest, in addition to the technical and academic ones, in the publication of the article, the information will be reported during the text.