BIOSSEGURNAÇA NA UNIDADE DE TERAPIA INTENSIVA: UMA REVISÃO BIBLIOGRAFICA
Keywords:
Exposição a Agentes Biológicos, Unidades de Terapia Intensiva, Cuidados de Enfermagem
Abstract
Objetivou-se verificar a importância da adoção e implementação de medidas de biossegurança pela equipe de enfermagem na Unidade de Terapia Intensiva. Este artigo apresenta um estudo descritivo de abordagem bibliográfica realizado com pesquisas científicas já publicadas a respeito da biossegurança no setor da UTI. Neste estudo foi realizada uma busca eletrônica nos sites Scielo, Bireme, Bliblioteca virtual em Saúde, Ministério da Saúde e Lilacs. Dos artigos encontrados foram lidos e selecionados quatro, e analisados na íntegra para definir quatro categorias para analisar  a importância das medidas de Biossegurança, as mais utilizadas, as mais ignoradas e a causa do não cumprimento. Conclui-se que os acidentes de trabalho envolvendo profissionais da área da saúde são os mais documentados no âmbito da saúde do trabalhador. Este fato ocorre em decorrência da complexidade em atuar em uma UTI e da maioria dos profissionais que trabalham neste setor, prestam assistência ininterrupta durante 24 horas.
Downloads
Download data is not yet available.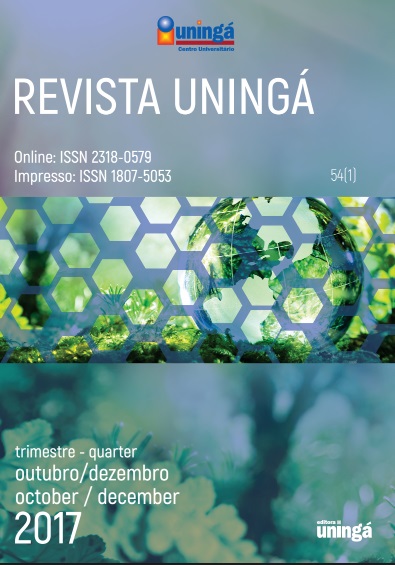 Downloads
How to Cite
Ribeiro, Ítalo A. P., dos Santos Assis, L. R., Alves, A. K. S., Duarte Neta, M. A., & Campelo, C. L. (2017). BIOSSEGURNAÇA NA UNIDADE DE TERAPIA INTENSIVA: UMA REVISÃO BIBLIOGRAFICA. Revista Uningá, 54(1). https://doi.org/10.46311/2318-0579.54.eUJ20
License
I declare/we declare that the text submitted here is original, of my own authorship and does not infringe any type of third party rights. The content is my/our sole responsibility. Possible research involving animals and/or human beings is in accordance with Resolution 196/96 of the National Health Council and its complements. I declare that I am/we are in possession of the written consent of patients and that the research and its procedures were timely and adequately approved by the Ethics Committee of the institution of origin. We further declare that all institutional affiliations and all sources of financial support for the work are duly informed. I certify that there is no commercial or associative interest that represents a conflict of interest related to the submitted work. If there is commercial interest, in addition to the technical and academic ones, in the publication of the article, the information will be reported during the text.