ESTÁGIO CURRICULAR: ENFERMAGEM NA ATENÇÃO BÁSICA: RELATO DE EXPERIÊNCIA
Abstract
O artigo objetivou relatar a experiência de atividades desenvolvidas
durante o Estágio Curricular de Enfermagem
realizado no ultimo ano do curso de Licenciatura e Bacharelado
em enfermagem realizado em um Centro de Atendimento
Psicossocial-CAPS III, localizado no município do
estado de São Paulo, no período de fevereiro a junho de
2015. A vivência partiu da disciplina Estágio Curricular:
Enfermagem na Atenção Básica, ofertada no décimo período
do curso de graduação em enfermagem, e compreendeu
dois momentos: inserção na realidade da prática profissional
e a reflexão e compartilhamento das experiências trazidas
para a sala de aula. Durante a inserção no cenário de
prática, ao acompanhar a rotina do serviço, incluindo oficinas
terapêuticas, consultas de enfermagem, grupo, visitas,
entre outras atividades do serviço e a partir das necessidades
observadas, foi possível elaborar estratégias de apoio a
equipe. Essa experiência possibilitou compreender a importância
deste serviço para a rede do cuidado em saúde
mental, e ainda para a formação crítica e reflexiva do enfermeiro.
Downloads
Download data is not yet available.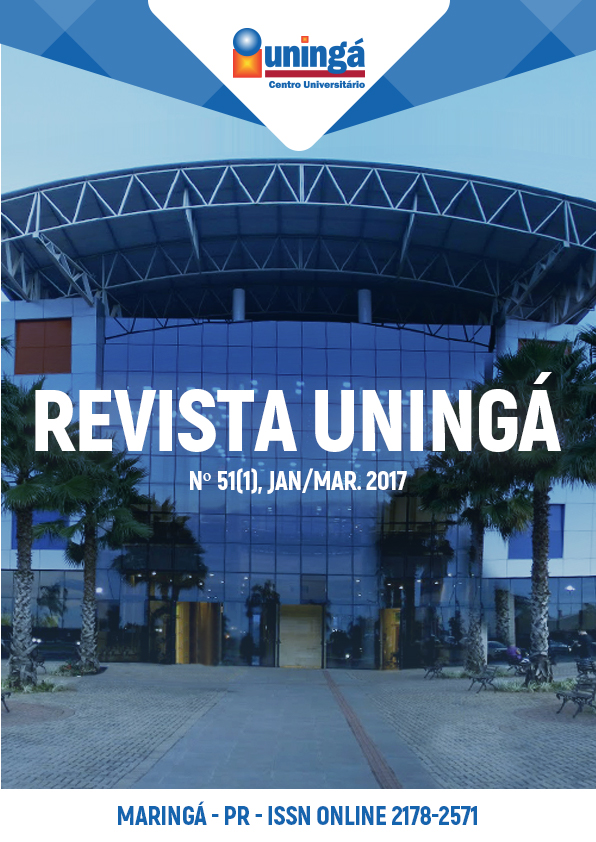 Downloads
How to Cite
MORERO, J. A. P. (2017). ESTÁGIO CURRICULAR: ENFERMAGEM NA ATENÇÃO BÁSICA: RELATO DE EXPERIÊNCIA. Revista Uningá, 51(1). https://doi.org/10.46311/2318-0579.51.eUJ1338
License
I declare/we declare that the text submitted here is original, of my own authorship and does not infringe any type of third party rights. The content is my/our sole responsibility. Possible research involving animals and/or human beings is in accordance with Resolution 196/96 of the National Health Council and its complements. I declare that I am/we are in possession of the written consent of patients and that the research and its procedures were timely and adequately approved by the Ethics Committee of the institution of origin. We further declare that all institutional affiliations and all sources of financial support for the work are duly informed. I certify that there is no commercial or associative interest that represents a conflict of interest related to the submitted work. If there is commercial interest, in addition to the technical and academic ones, in the publication of the article, the information will be reported during the text.