ABORDAGENS TERAPÊUTICAS NA SOBREVIDA APÓS MANOBRAS DE RESSUSCITAÇÃO CARDIOPULMONAR
Abstract
Doenças cardiovasculares são as principais causas de uma
parada cardiorrespiratória, e necessita de intervenção imediata
já que a sobrevida está diretamente relacionada com
o tempo da primeira ação. O intuito deste artigo foi identificar
as abordagens terapêuticas para aumentar a taxa de
sobrevivência em pacientes que foram submetidos às manobras
de ressuscitação cardiopulmonar. Revisão integrativa
de literatura realizada a partir da questão norteadora:
quais são as evidências científicas disponíveis na literatura
relacionadas às abordagens terapêuticas de reduzir a taxa
de mortalidade em pacientes que foram submetidos às
manobras de ressuscitação cardiopulmonar? Foi utilizada a
estratégia PICO. Diante dos resultados observaram-se
poucas publicações sobre o tema, abordagens terapêuticas
divergentes com o mesmo fim de aumentar a sobrevida e
ausência de estudos nacionais. É uma temática que precisa
ser mais explorada na tentativa de aprimoramento de técnicas,
profissionais e leigos para aumentar as chances de
vida numa parada cardíaca.
Downloads
Download data is not yet available.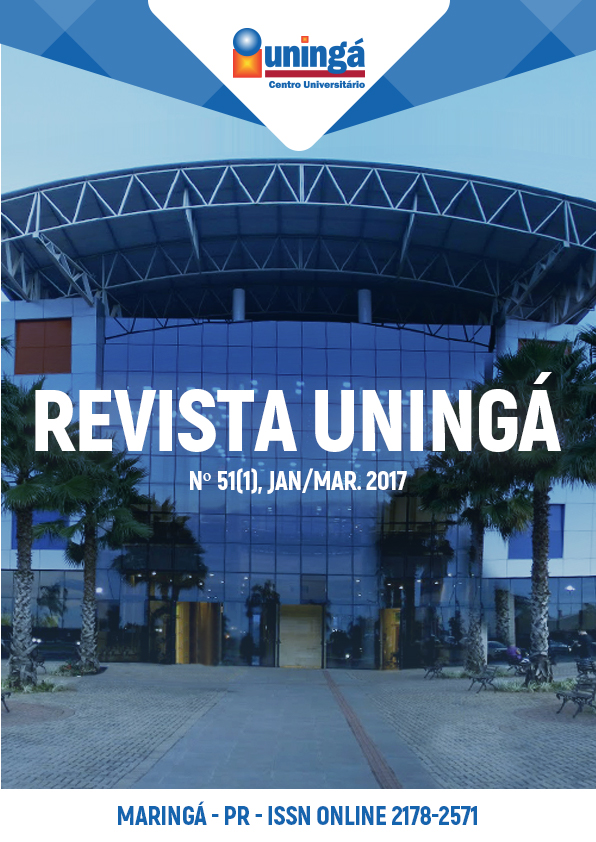 Downloads
How to Cite
MARTIN, L. B., & PALHARES, V. D. C. D. C. (2017). ABORDAGENS TERAPÊUTICAS NA SOBREVIDA APÓS MANOBRAS DE RESSUSCITAÇÃO CARDIOPULMONAR. Revista Uningá, 51(1). https://doi.org/10.46311/2318-0579.51.eUJ1332
License
I declare/we declare that the text submitted here is original, of my own authorship and does not infringe any type of third party rights. The content is my/our sole responsibility. Possible research involving animals and/or human beings is in accordance with Resolution 196/96 of the National Health Council and its complements. I declare that I am/we are in possession of the written consent of patients and that the research and its procedures were timely and adequately approved by the Ethics Committee of the institution of origin. We further declare that all institutional affiliations and all sources of financial support for the work are duly informed. I certify that there is no commercial or associative interest that represents a conflict of interest related to the submitted work. If there is commercial interest, in addition to the technical and academic ones, in the publication of the article, the information will be reported during the text.