CERÂMICA X RESINA COMPOSTA: O QUE UTILIZAR?
Abstract
Com o avanço da tecnologia, os materiais odontológicos
passam por grande transformação, a fim de proporcionar
melhor qualidade para as técnicas de tratamentos. O objetivo
dessa revisão de literatura é apurar as principais informações
disponíveis ao cirurgião-dentista a respeito de
dois materiais corriqueiramente utilizados na Odontologia
Restauradora: resina composta e cerâmica. Para isso, utilizou-
se as bases de dados Google acadêmico e Pubmed.
Foram selecionados os artigos dos últimos 10 anos. A resina
composta limita-se a cavidades com até 3 paredes perdidas
e com condições favoráveis para a técnica de restauração
direta. Quando utilizada na construção de facetas, geralmente
requer menor desgaste dental, mas pode apresentar
alteração de cor com o decorrer do tempo. Por outro lado,
os diversos tipos de cerâmica permitem construção de coroas
e facetas com alta resistência, permanência de cor,
porém necessita de maior desgaste de estrutura dentária.
Em dentes altamente comprometidos sua indicação é certa.
Após análise apurada desses artigos, conclui-se que é fundamental
conhecer as propriedades e indicações d
Downloads
Download data is not yet available.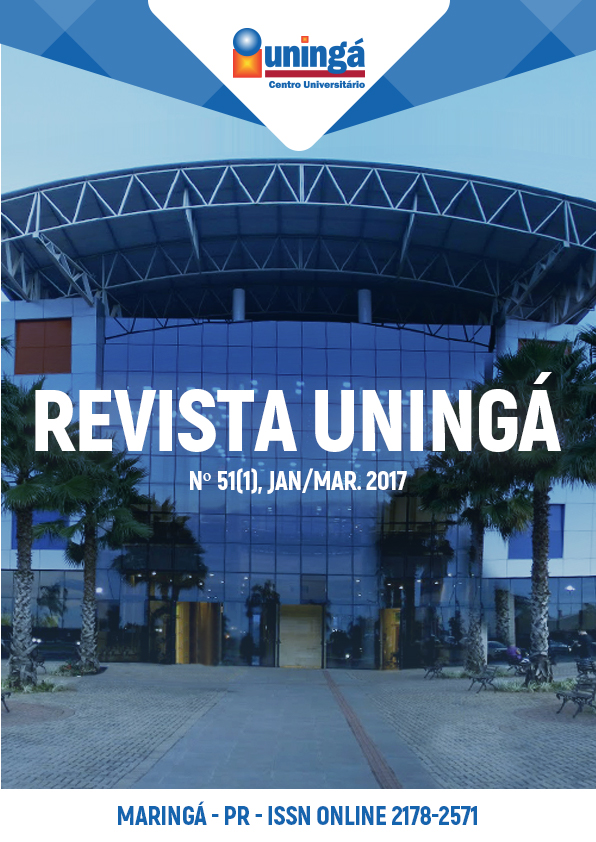 Downloads
How to Cite
DIEGUES, M. A., MARQUES, E., MIYAMOTTO, P. A. R., & PENTEADO, M. M. (2017). CERÂMICA X RESINA COMPOSTA: O QUE UTILIZAR?. Revista Uningá, 51(1). https://doi.org/10.46311/2318-0579.51.eUJ1329
License
I declare/we declare that the text submitted here is original, of my own authorship and does not infringe any type of third party rights. The content is my/our sole responsibility. Possible research involving animals and/or human beings is in accordance with Resolution 196/96 of the National Health Council and its complements. I declare that I am/we are in possession of the written consent of patients and that the research and its procedures were timely and adequately approved by the Ethics Committee of the institution of origin. We further declare that all institutional affiliations and all sources of financial support for the work are duly informed. I certify that there is no commercial or associative interest that represents a conflict of interest related to the submitted work. If there is commercial interest, in addition to the technical and academic ones, in the publication of the article, the information will be reported during the text.