ANTIBIÓTICOS EM ODONTOLOGIA
Abstract
Os microorganismos presentes na cavidade oral normalmente
se encontram em homeostasia com o hospedeiro,
contribuindo para sua integridade fisiológica e imunológica;
mas frente à uma situação de desequilíbrio ou à inclusão de
um patógeno externo, um quadro de infecção bacteriana
pode se instaurar. Os antibióticos são substâncias produzidas
por microorganismos ou de forma sintética, com capacidade
de impedir a multiplicação de bactérias ou destruir
as mesmas. Na prática odontológica o tratamento das infecções
bacterianas já estabelecidas tem como principal
conduta a remoção da causa, e aliada a ela o uso de antibióticos
como terapêutica auxiliar; mas técnicas profiláticas
também são empregadas para pacientes com risco de
desenvolver endocardite bacteriana ou com problemas
sistêmicos. Utilizando como fonte de base de dados bibliotecas
eletrônicas, como Scielo e Pubmed, revistas científicas
e livros referenciais na prática odontológica, o presente
trabalho objetivou a revisão de uma literatura atual sobre
os antibióticos empregados em odontologia e pode concluir
que a antibioticoterapia está bem difundida na prática clínica
odontológica e que, cada vez mais, a ciência sobre
prescrição, orientações sobre o uso e conhecimento do estado
geral de saúde do paciente, é de extrema importância
para o cirurgião dentista.
Downloads
Download data is not yet available.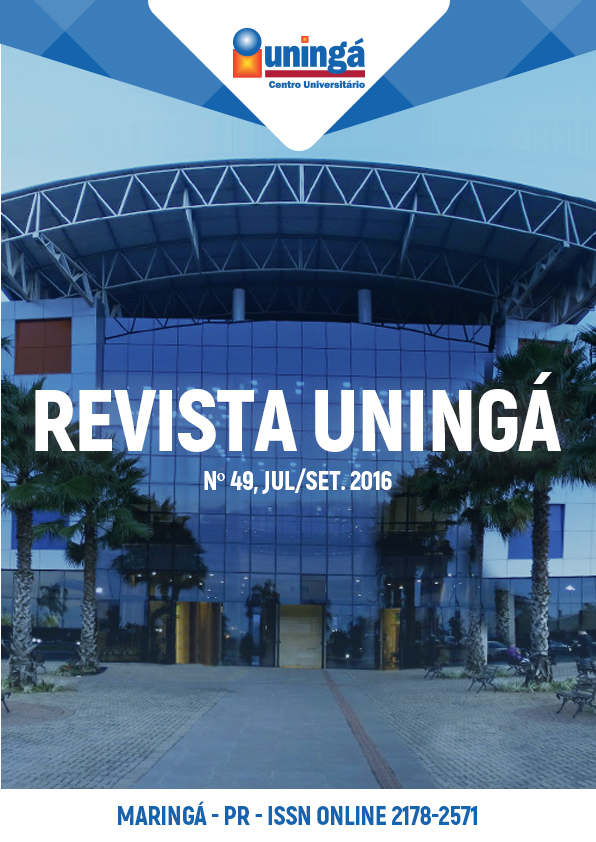 Downloads
How to Cite
BRIGANTINI, L. C., MARQUES, G. J., & GIMENES, M. (2016). ANTIBIÓTICOS EM ODONTOLOGIA. Revista Uningá, 49(1). Retrieved from https://revista.uninga.br/uninga/article/view/1293
License
I declare/we declare that the text submitted here is original, of my own authorship and does not infringe any type of third party rights. The content is my/our sole responsibility. Possible research involving animals and/or human beings is in accordance with Resolution 196/96 of the National Health Council and its complements. I declare that I am/we are in possession of the written consent of patients and that the research and its procedures were timely and adequately approved by the Ethics Committee of the institution of origin. We further declare that all institutional affiliations and all sources of financial support for the work are duly informed. I certify that there is no commercial or associative interest that represents a conflict of interest related to the submitted work. If there is commercial interest, in addition to the technical and academic ones, in the publication of the article, the information will be reported during the text.