SISTEMA ÚNICO DE SAÚDE NA FORMAÇÃO ACADÊMICA DO ENFERMEIRO
Keywords:
Sistema Único de Saúde-enfermagem-ensino
Abstract
Antes do Sistema Único de Saúde (SUS), os cursos na área da saúde eram desenvolvidos nos Institutos de Ensino Superior (IES) os quais não possuíam diretrizes curriculares e nem metologia. Após a institucionalização do SUS percebeu-se a necessidade de uma reforma no ensino na graduação de enfermagem frente a esse novo modelo de atendimento e que vai até os dias atuais. Através de uma revisão sistemática da literatura foram encontrados diversos artigos sobre o tema. Discutiu-se que repensar a atuação do educador no ensejo da formação a partir de sua interação com a comunidade, talvez seja um ponto crucial para despertar no estudante a compreensão real do SUS. A cisão teoria/pratica é agravante da qualidade da formação por isso, pensar na transformação das praticas em saúde é uma necessidade para a melhoria da população. Podemos concluir que tanto os docentes, alunos de enfermagem ainda tem um grande quanto às políticas do SUS.
Downloads
Download data is not yet available.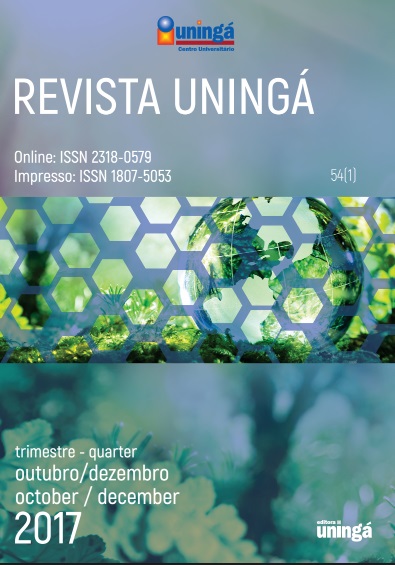 Downloads
How to Cite
Apolonio, F. R., & Cardoso, A. L. (2017). SISTEMA ÚNICO DE SAÚDE NA FORMAÇÃO ACADÊMICA DO ENFERMEIRO. Revista Uningá, 54(1). https://doi.org/10.46311/2318-0579.54.eUJ11
License
I declare/we declare that the text submitted here is original, of my own authorship and does not infringe any type of third party rights. The content is my/our sole responsibility. Possible research involving animals and/or human beings is in accordance with Resolution 196/96 of the National Health Council and its complements. I declare that I am/we are in possession of the written consent of patients and that the research and its procedures were timely and adequately approved by the Ethics Committee of the institution of origin. We further declare that all institutional affiliations and all sources of financial support for the work are duly informed. I certify that there is no commercial or associative interest that represents a conflict of interest related to the submitted work. If there is commercial interest, in addition to the technical and academic ones, in the publication of the article, the information will be reported during the text.